Spring Fever is definitely upon us. Cherry blossoms are out, the days are warming up, sunglasses dusted off and Spring Break gives kids an addictive sample of summer vacation. But no matter the weather, Olympia's Arts Walk and the annual Procession of the Species parade are a great way to work off extra energy for little (or no!) money, rain or shine.

This year's festival runs from 5:00 p.m. to 10:00 p.m. on Friday, April 27, and 12 p.m. to 8:00 p.m. on Saturday, April 28. The lighted Luminary Procession will be at 9:30 p.m. on Friday, with the full parade at 4:30 p.m. on Saturday.
Nearly 30,000 people explore the twice-yearly Arts Walk, wandering through downtown Olympia's many small businesses, cafes, and—for this event—car restricted avenues. Families can find street performers, musicians, jugglers, bubble stations, and sidewalk-chalk galore.
Many exhibits are hosted by, and in, local shops but for those with little ones, plenty can be seen from outside too. Feel free to window shop paintings, textiles, jewelry, sculpture and more. Look for booths selling treats and souvenirs, or offering interactive, take-home crafts for little hands.
A full event map will be available online by April 14 if you like to plan ahead, or park downtown and pick up a hard-copy to see where the excursion takes you. This year's gorgeous map cover comes thanks to 3D paper sculpture artist Laura Yu and her passion for endangered animal species. Maps and information are available throughout the downtown corridor.
On Saturday set up blankets or folding chairs for the wildest parade in town. Procession of the Species is a handmade highlight of our vibrant downtown's calendar. Founders describe it as "created by the community for the community the Procession of the Species Celebration is a joyous, artistic pageant, embracing the languages of art, music and dance to inspire learning, appreciation and protection of the natural world. The intent of the Procession is to elevate the dignity of the human spirit by enhancing the cultural exchange that we have with each other and with the natural world…and to do that through imagination, creation, and sharing."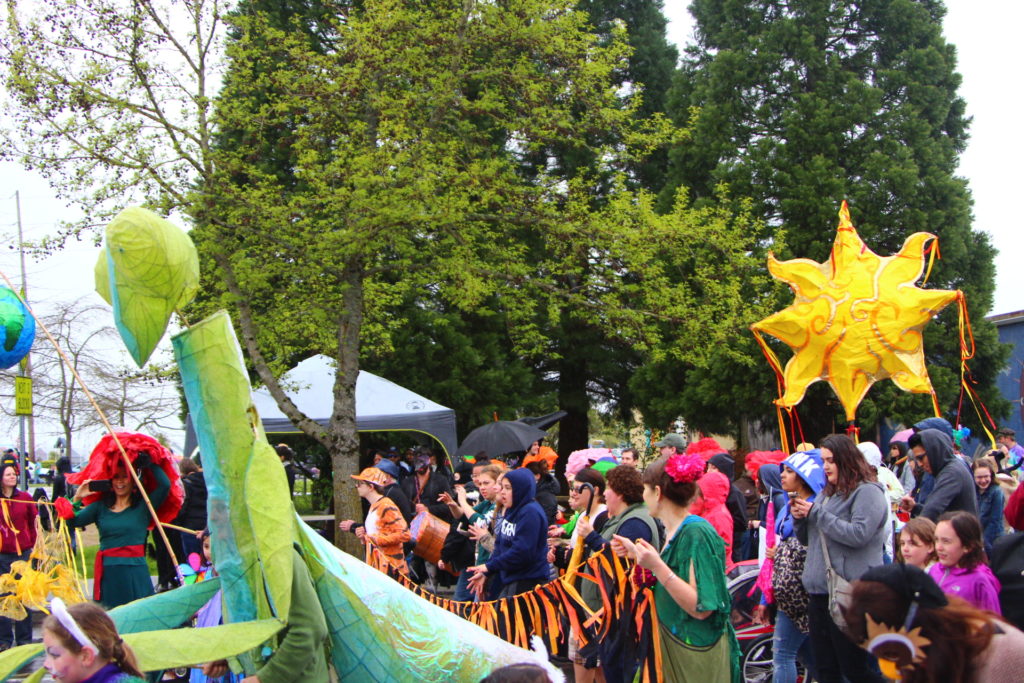 Volunteers staff a Community Art Studio to craft costumes, floats and creatures galore. These are joined by dance troupes, musicians, civic groups, students and anyone wanting to participate. Anyone wanting to register must simply bring 2 cans of food for the Thurston County Food Bank on the day of the parade. Find a parade route online so you don't get caught unawares on opposite sides of the street when the water-spraying anglerfish swims majestically by.
This year's theme is "A Kinship with the Earth." "Since its inception in 1995, the Procession of the Species Celebration has never wavered from its original intent of enhancing our community's appreciation, understanding, and protection of the natural world," explains Eli Sterling, who founded the Procession. "And while there are numerous environmental organizations striving for the same goal, the Procession has sought to augment those efforts by developing a cultural identity that citizens will find themselves contributing toward, year after year after year. Instead of prescribing how people should behave, the Procession instead extends a region-wide invitation to joyfully participate in an artistic pageant that displays each individual's awe and wonder for the amazing planet upon which we live.
"As a means to keeping that invitation alive and vibrant, each year the organizers locate and stage a free Community Art Studio where art, luminary, music and dance workshops are held and Earthbound Production crew members are on hand to teach, scheme and facilitate people's successful entry onto the streets for what has become the largest annual Earth Day celebration in the Northwest. The Community Art Studio is open now, and you're invited!"
Whether you come Friday night or Saturday afternoon, there's something for everyone. Metered parking is free both days and if you pack a picnic, the fun won't cost you a dime – though resisting mini-cupcakes, freshly-brewed coffee, and sidewalk treasure hunting takes strong willpower.