Whether it's in the car on a road trip or at home, you've probably listened to a podcast in recent years. Podcast topics can vary from cooking to video games to true crime. Some are more educational and others are more for entertainment. So, how has podcasting become so popular that it's now being explored in high school classrooms?
First, let's fully understand what podcasting is. Podcasting is a journalistic platform that's strictly audio-based. Normally, podcasting is done live but it can be uploaded and listened to later as well. The most popular platforms for podcasts are YouTube, SoundCloud or the podcast app included on most smartphones. Podcasting begins with a group of people coming together and creating a topic they want to explore. It can have a casual or serious tone, depending on the topic being discussed. Once the topic is explained, different people are brought in to add to the discussion, giving their insights and thoughts.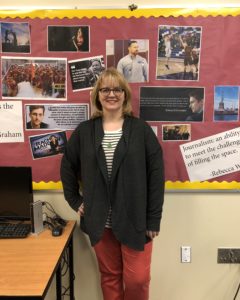 Caroline Street, who's been teaching journalism for years at Capital High School, explains in depth what podcasting is. "It's not necessarily a better or worse form of communication, but just more of a full-body, full-sensory experience for communicating and exploring ideas," she says. She also adds how it is, in essence, a story being told in an oral form. One aspect of podcasting Street has always admired is it's inclusivity. It's a way for all students to feel their voice being heard. Podcasting creates an environment that any student can participate in.
CHS's journalism class has been exploring the world of podcasting. Capital does offer other classes that explore visual broadcasting, but journalism is the only class that's tackled podcasting. Students in the class were instructed to form a group and create a topic for their podcast. They were then expected to bring in people to interview and during the podcast. These podcasts weren't live, instead they were recorded and turned in. This introduction into podcasting allows students to have the experience and understanding of what it's like to create a podcast, becoming more comfortable with it, without the pressure of a live broadcast.
Podcasting has become mainstream in recent years as technology has further developed, making it a more familiar style of journalism. Donovan Long, senior and one of the Editors-in-Chief of the Outlook newspaper at Capital, discussed some of the beneficial aspects of podcasting. "This is one of the few things you can't have beginners luck with because it's kinda about you as a person," he explains. "It also allows not just creators, but reporters to get the information they need to share out there more easily. We're always trying to do things faster and this is a great outlet for doing that," Long continues. Street also explained that with other journalistic platforms like broadcasting, there are limitations that podcasting doesn't experience.
Podcasting also finds a good middle ground between factual information and entertainment value. This is important for content creators to keep in mind because there are no visual aspects to podcasting as it's strictly audio. This means they need to keep the audience engaged in their discussion. Creators and journalist need to know how to present it in an engaging way.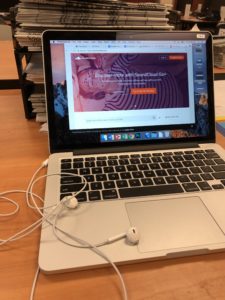 Although there are many benefits to podcasting, there can also be some issues. The biggest issue is simply getting comfortable with speaking. "The first disadvantage that comes to mind is just starting out," says Long. "The rhythm – it's one you're not going to be quite used to. It's like learning a new skill, so it's going to be rough at the start. But, that's really the only disadvantage. or challenge" The most important thing is to get more comfortable with speaking and being recorded.
What is the future of podcasting? With the current popularity of podcasts, it's easy to forecast continued popularity and growth in new ways. "I think it's going to blow up," shares Long. "It's one of those things that kind of creeps up on you."  
Podcasting's freedom allows it to grow and develop over time. Street believes the field is going to continue to expand. "This is a way for journalist who do not have broadcast journalism degrees or experience to go head and use that platform. I think it's very equalizing."