With spring beginning to warmly embrace Thurston County, the occasional cool breeze may catch your eye more than usual if you're walking near the Capitol Campus. This weekend marked the official start of Child Abuse Prevention Month and our community came together to begin raising awareness with a display of one item: pinwheels.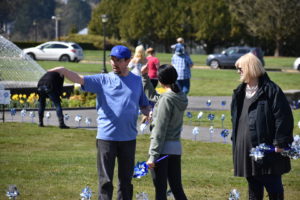 On March 31, 2018, a group of community members coming from various ages and backgrounds gathered at the Capitol to help with the annual pinwheel planting in front of Tivoli Fountain. The event is organized by the Washington State Department of Early Learning and Strengthening Families Washington in collaboration with other key organizations in the community.
"The pinwheel symbol implies whimsy and childlike notions and has come to serve as the symbol nationally during Child Abuse Prevention month as a reminder of the great childhoods we want for all children," said Jenni Olmstead, prevention partnerships specialist at Strengthening Families Washington.
This marks the sixth consecutive year that the pinwheels are installed as part of the nationwide project.  The group planted nearly 1,000 pinwheels with the help of volunteers from local based community organizations, community members and parents. Two groups that returned this year to help were the Guardians of the Children Puget Sound chapter and Apple Valley chapter.
"The impact I hope the pinwheels have for our community and state is a deeper understanding of parent support that inspires action," said Olmstead. "Every family will experience difficulty and challenges at some time—the pinwheels are a reminder to the public that we can play a role in helping families respond to those difficulties in effective and positive ways."
You can see the pinwheels for the next two weeks until they are taken down on April 16. And while the pinwheels may be taken down, resources are available year-round for parents and community members. Wear Blue Day, a national campaign by Prevent Child Abuse America, falls on April 6 and is a way for folks to engage in solidarity against child abuse and neglect by wearing blue. Furthermore, there is a lot you as a community member can do to help in strengthening families and building supports for parents.
"We believe one person can make a difference," said Olmstead. "Community members and parents can also engage in supportive conversation with each other, encourage connections locally and build inclusive communities. We would like to see this not just highlighted during April but throughout the year…finding moments when we can offer support and kindness to parents in small but significant every day actions."
ThurstonTalk also captured photos and information from the 2014 installation that are still accessible online. Take a peek below at this year's installation or swing by the campus and stroll the powerful reminder in person.