If you're like most people, you may not realize that the landscaping industry includes two different sides. The term itself is often associated in people's minds with freshly mowed lawns, clipped hedges and manicured gardens. But that's just one part of the picture.
Aaron Borden, owner of Olympia's AJB Landscaping & Fence, is used to the misconception. "Most people think we're on the maintenance side, but we're in the construction side," says Borden. The difference: landscape construction involves concrete, irrigation systems and structural components such as retaining walls, paver patios and fire pits, rather than tree pruning or hedge trimming.
Borden brings over 15 years of experience to projects such as retaining walls that require expertise in excavating, grading and drainage as well as knowledge of how materials weather over time. The company also installs sod, synthetic grass and driveways.
Clients are an integral part of the process, says Borden, and communication is key. "A lot of times, people can't understand or envision how something is going to work," he says. "While we're in the process, we'll make changes after the customer has had a look. We pride ourselves on our ability to shift on the fly and change things up."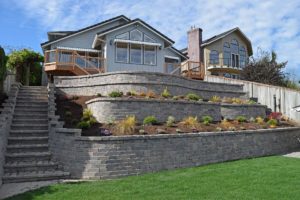 The company also works to keep any changes affordable. "A lot of contractors see dollar signs on change orders," Borden continues, "but we really want to go above and beyond." A quick scan of the ten pages of testimonials on the company's website confirms that customers both recognize and appreciate the extra effort. A typical comment, "It is refreshing to have a contractor that answers the phone and is so responsive and to top it off, someone that takes pride in his work and wants the best results possible!"
To learn more, visit the AJB Landscaping & Fence website or call 360-789-3707.
Sponsored