The Tumwater High School string orchestra is an ever-changing, ever-growing musical ensemble. At its start as an official orchestra program in 1997, it included eight students. One winter, orchestra director Peter Klinzman recalls, the orchestra of only six students was able to play around a space heater when the music room didn't have power during a school remodel. Today, the group is made up of 40 students of diverse interests, skills and musical backgrounds, all united under one director.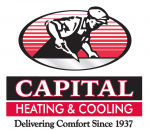 Klinzman became director of Tumwater High School's orchestra in 1997. Since then, as the orchestra has expanded and changed, he has grown along with it. "I have definitely grown over the last 20 years," remarks Klinzman.
Klinzman, also a band director and former U.S. Navy trombone and euphonium player, characterizes himself as a "band guy." For him, teaching the string orchestra has been a challenge because he is not as familiar with string instruments and their literature as a string player would be. However, he has "just gotten better" over time by attending numerous workshops, receiving help from local string teachers (especially Chip Schooler and Grant Sears), and learning through experience. The process of learning has made this challenge rewarding for Klinzman and "very eye-opening."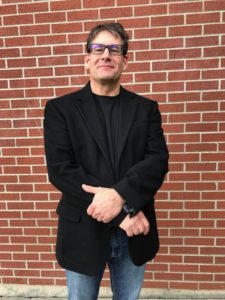 The most rewarding aspect of teaching orchestra for Klinzman, however, is the students. "One of the things I really love about my job is that I get to see students – from freshman to senior year – grow into adults." If his students choose to stay with the music program all four years of high school, two types of growth are apparent to him. Of course, they grow as musicians. Additionally, Klinzman notices growth in character and maturity: students change from "goofy freshmen to thoughtful, reflective young adults." And not only do the students change, but the orchestra itself does. Each year, as a new group of freshmen replaces the previous year's seniors, the personality of the group evolves. "This year's orchestra is very different from last year's," says Klinzman. All students, though, bring unique interests and experiences to the ensemble.
Emily Jaeger, a senior violist, remains involved in the orchestra while having significant commitments to singing and theater. Singing since age six and beginning acting not long after, Emily has been involved with Kids in Concert, Apple Tree Productions and the Tumwater High School theater program. Her talents have landed her many roles (her most recent being Miss Hannigan in Annie, Tracy Turnblad in Hairspray, and Arvide Abernathy in Guys and Dolls). At IE Festival Southwest, an acting competition put on by Washington State Thespians at Olympia High School, she has earned scores high enough to qualify for nationals.
"I wanted to play the cello originally, but my sister said that since she already played the cello I had to play something different," Emily laughs. Seeing her sister's concerts as a child inspired Emily to take up singing, and later the viola. Now, Emily enjoys being an inspiration herself for younger musicians, such as her friends' younger siblings. In her opinion, this is one of the best aspects of being a high school musician. Currently a Running Start student at South Puget Sound Community College, Emily has no other classes besides orchestra at the high school – a fact that makes her orchestra involvement even more meaningful to her since it connects her to THS.
Brandon Huyck is a cellist in both the Tumwater High School orchestra and the Student Orchestras of Greater Olympia (SOGO) conservatory orchestra, which he joined this school year. A dedicated musician, Brandon plays at a regional solo/ensemble each year, and auditions for "All-State" and "All-Northwest." His personal inspiration in music is "the pursuit to get better as a person. I'm very logical and mathematical, but music helps me express myself and find a better common ground." He, like Emily, enjoys helping younger students in the THS orchestra. While Brandon enjoys playing more advanced pieces with SOGO, being in the high school orchestra has taught him the patience and cooperation necessary for a unified orchestra spanning a spectrum of skill levels and musical backgrounds. Being in both orchestras, Brandon says, gives him a better perspective.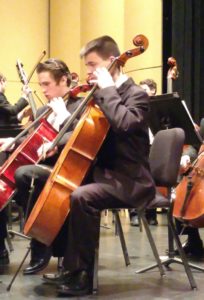 Brandon and Emily are joined by athletes, writers, rifle team members, bee-raisers (including Mr. Klinzman himself) and more in the orchestra. These students come from THS, Running Start and homeschooling, and have anywhere from four to eleven years of experience. Since the skill level of the orchestra is so varied and changes every year, Mr. Klinzman is flexible in setting goals. He usually doesn't purchase music over the summer, but waits until after the first few weeks of school when he has an idea of where the orchestra is at. The rest of the school year builds off of this foundation.
Mr. Klinzman guides students by being available to help and adjusting his teaching to best fit each class and individual. "It's a balancing act between encouraging and holding people accountable," he says. Most importantly, Klinzman holds high expectations and knows that, no matter their skill level, his students are capable of more than they think. "I start with the assumption that we're all here for the same reason. We're here to play music, and to play it well. I think, if the expectation is high, the kids will rise to meet it. They can do anything."