When you reside in Western Washington, there is something so very hopeful about a song that declares, "the sun'll come out, tomorrow." I mean, we all know it won't, but still, it is lovely to hear people sing about the possibility that it might. Truthfully though, almost all the songs, scenes and character in the musical Annie – especially the enigmatic, spunky, redheaded star – have a magnetic and nostalgic quality that make audiences around the world reminisce and smile.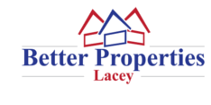 Thurston County children's theater company, Apple Tree Productions, will open their run of Annie on Friday, December 15 at 7:00 p.m. and it is a show not to be missed. Heidi Fredericks, founder and artistic director of Apple Tree, is thrilled to produce such an iconic and family friendly show this holiday season. "Annie appeals to children and adults alike with its engaging music, holiday themes and child-like innocence," she shares.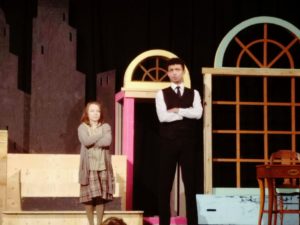 Fredericks, a London trained actress who grew up in Thurston County, is delighted to be producing plays in the historic Capitol Theater in downtown Olympia. "I grew up performing at the Capitol Theater," Fredericks explains, "and the opportunity to help children fall in love with the art of performance at a location that was so important and pivotal for me as a young actress is magical." Fredericks manages to bring that same magic to every show she produces. Apple Tree parent Kristi Rutledge describes Heidi's gift when it comes to directing children as "exceptional." She goes on to say that, "when Heidi is directing a play, she somehow makes every single child feel like the star of the show. She simply cares about the children so much and wants all of them to have a positive experience with theater."
Fredericks, whose talents are in high demand by the community, produces shows at the Capital Theater year round as well as directing school-based productions at various local schools such as Pioneer Elementary, Washington Middle School, Boston Harbor Elementary, McKenny Elementary and many more.
But she doesn't do it alone. Jaysen Geissler, a Tumwater High School graduate and accomplished musician is the musical director for Apple Tree and also has a gift for working with and encouraging children in the performing arts. Geissler describes working with youth in theater as, "rewarding and fun. I love watching kids take positive risks and also take ownership of their show," he says. When Geissler isn't directing for Apple Tree, he teaches private piano lessons and performs with his band The Edgewater Trio. Amanda Copeland, as choreographer, and Ryan Zimmerman, as technical coordinator also play important roles in the Apple Tree family.
Annie, it turns out, is a quintessential holiday play, with the perfect combination of energizing musical numbers and heartstring-tugging moments. Lola Havens, a fifth grader at Centennial Elementary in Olympia, plays the title role and has a voice that easily reaches the back of the theater. Jacob Conrad, a junior at Timberline High School, plays Daddy Warbucks, and Emily Jaeger, a senior at Tumwater High School, plays Miss. Hannigan. Another star of the show, an adorable dog named Charlotte, plays the role of Sandy and is sure the keep things entertaining and lively. A group of talented young actors from various parts of Thurston County, who have been rehearsing for months, round out the cast.
If you are looking for a perfect holiday outing for the family, or a date night for this weekend, head downtown to the beautiful, historic Capitol Theater for one of the four showings of Annie. It's only a day (or two) away!
What: Annie, The Musical
Where: Capitol Theater, 206 5th Ave SE, Olympia, WA 98501
When: December 15, 16, 17 — 7:00 p.m. and December 16-17 — 2:00 p.m. (matinees)
Cost: $12-15
Tickets available for purchase at www.olympiafilmsociety.org and at the door on the date of performances. Doors open one hour before curtain.
For more information about Annie or any of Apple Tree Production's show, visit their website at www.appletreeprod.com or the Apple Tree Productions Facebook page or call 360–359–6685.