Some people make a profound difference in the world. Barbara Nichols is one of those people and much, much more.
Standing just under five feet tall, Lieutenant Colonel Barbara Nichols is the epitome of grace under fire, skill and determination. She served in three wars – WWII, the Korean War, and the Vietnam War – in the U.S. Cadet Nurse Corps., usually in an operating room and often on the front lines. Her service was outstanding.
As a result, Barbara was profiled in Washington state's "Korea 65:  The Forgotten War Remembered" exhibit.
The War Years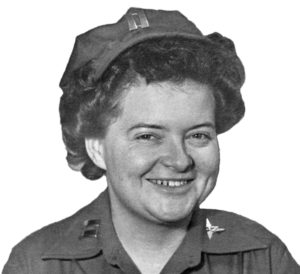 "During WWII, the (medical) equipment was scarce and we somewhat lacked food but the rations were fresh," says Barbara as she compared the wars. "During Korea we had plenty of rations but they were stale, left over from WWII. The dehydrated foods were horrible, especially the eggs."
"In WWII we were short on dressings and bandages but Korea had the worst shortages," recalls Barbara. They had to clean, disinfect, sterilize, and re-use knife blades, needles, dressings and bandages. "We washed the fabric, stretched it on a board with nails around the edge, then re-sterilized it. We used little stones to sharpen (surgical) knives."
They lacked water in Vietnam so they used their helmets to wash their hair, bodies and clothes. This was not a problem for Barbara who grew up camping with her family.
In Korea, Barbara helped orphaned children by writing home for supplies. Her parents and friends would send items to give to the Catholic nuns running the orphanages.
What got her through the war? Barbara says it was her Christian upbringing and loving Christ as well as her parents who were very helpful, positive and supportive. And, there were several outstanding doctors and nurses who supported her throughout, particularly in Korea.
"We had movies," smiles Barbara. "They were from the states and a little outdated. Every now and then we had trouble with the generators. The movie would stop right at the best part and we'd say,  'Oh no, not again!'"
MASH units traded movies, remembers Barbara. She also attended USO shows featuring Bob Hope and other actors.
In Vietnam, the medical staff became exposed to Agent Orange while treating patients. Barbara walked away from that tour of duty as a casualty herself.
Barbara today is one of the oldest living Korean War nurse in the United States. She has received numerous awards including the Bronze Star. President Dwight D. Eisenhower was one of her patients at Walter Reed Army Medical Center.
There's a Celebrity in Our Midst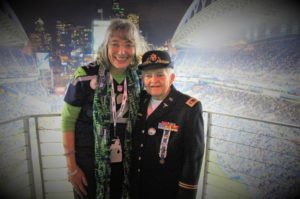 Barbara is a bit of a celebrity these days. The Seattle Seahawks honored her during their recent annual "Salute to Service" game by having her raise the 12 Flag – the first female to do so.
"I was very proud and in awe," says Barbara. "All the noise and applause from the crowd…that was a thrill and very, very loud!"
Close friends accompanied her onto the elevated platform for the flag-raising ceremony. Dressed in her original military outfit, laden with medals, Barbara made every American proud and many teary-eyed.
The week before the game, Barbara and friends were guests at a Seahawks practice where she met the players and Coach Pete Carroll. Barbara left wearing an official, personalized Seahawks jersey.
"It was just a thrill seeing them. I got hugged. They were about yea high and I was about yea low," she smiles, gesturing high and low with her hands. "They are big! It was such a wonderful group of gracious men."
Making Friends Near and Far
While Barbara was raising the flag and being interviewed on live TV, her Panorama "family" of 30 years cheered her on at home, throwing a party, feasting on treats and watching her on three large screens.
"She's pleasant, humble and intelligent," says Jo Love Beach. "We're all a little in awe of her because she is so outstanding. We appreciate so much who she is and what she has done in her life. When you really look at that little lady, she's remarkable."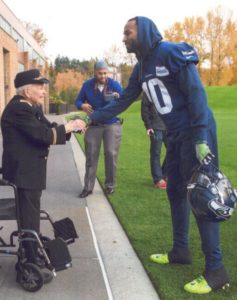 Since retirement, Barbara has traveled the world and been very active at home here in Thurston County, still making life better for everyone around her. She's been involved with the Mountaineers, helped start computer and disaster preparedness groups, hiking and walking groups, researched genealogy and family ties to the Mayflower, is active in the Daughters of the American Revolution (Sacajawea Chapter) and more.
"She is always so caring," says Mary Jo Shaw. "The nurse is always showing up in Barbara."
After the war, Barbara eventually followed fellow army nurse Lieutenant Colonel Katy Polak to Panorama where they've remained lifelong friends. They live in the same building and just spent Thanksgiving together.
Barbara Nichols has an amazing life story – the type that movies are made from. Everyone who knows her agrees:  Barbara changed their lives for the better, continues to do so and they love knowing her.
This slideshow requires JavaScript.