It is not every day you get to walk into a high school classroom and see students learning to put together actual airplanes that will one day fly. But on a tip from a friend, I am lucky enough to see firsthand exactly what these teenagers are doing at Black Hills High School. Before I am even through the door of Scott Cutler's classroom, it is obvious where his passion lies. A display case just outside his room houses an impressive collection of model airplanes and other items, all aviation related. That is not something typically seen in a high school, but I quickly find out Mr. Cutler's program is anything but typical.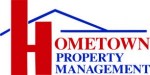 Even though he grew up as the son of a teacher, Scott tells me he did not think it would also be the right path for him. He wanted to be a pilot and says he simply chose a degree in aeronautical engineering because it was somewhat related. However, life sometimes has a funny way of changing directions on you.
"No way was I going to be a teacher," Scott says. "But then when I was in college I started doing some coaching and working with kids and realized this is not as bad as I thought. So, I kind of worked my way into it, and the next thing I knew I was a teacher. And my dad just sat there and smiled."
Twenty-six years later, Scott still knows he made the right choice.
Yet, becoming a teacher did not mean giving up on his dream of also becoming a pilot. Instead, Scott got his private pilot's license and even learned to build his own airplane. But he knew there had to be more he could do with the two things he was passionate about. "I love teaching and I love flying, so my goal has always been to combine the two. I always wanted to get aviation into schools. Plus, you can teach so much science with it," he says.
At the time Scott was teaching at G.W. Bush Middle School, so he decided to embark on a project of assembling an airplane with his students. It became apparent after a few years that he could only take his dream so far with young students and without an actual shop. "I wasn't looking to leave; I love middle school, but a position came open at Black Hills, and they showed me this facility. So, I said, 'Hey if I come over, can I bring my plane project?' and they said yes," he explains with a smile.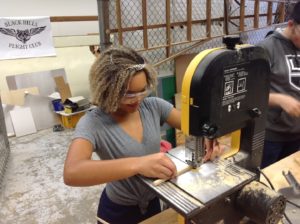 What started with only eight students that first year has now grown into a very successful program with three classes a day.  Scott says it is much more than just building airplanes. He wants to show his students that there are so many options in the field of aviation that many students know nothing about. "Any time you talk about a job related to flying, everyone just thinks of the pilot, but there's so much more. There's maintenance, air-traffic control, scheduling, construction. There's so many other support jobs that go along with it that need to be highlighted," he explains.
That is why every day in his classroom there is something new. From computer flight simulators to hands-on shop experience, these students are learning things they cannot get anywhere else.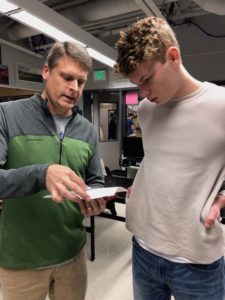 Talking with senior, Joshua Forster, who has taken several of Scott's classes, it is obvious the impact these classes have had on him. "I'm actually thinking about becoming a pilot just because of this class. I was interested in planes as a little kid, but this class really made me think about it as a career. I really feel like I've learned valuable life skills in this class. It's one of the absolute best electives you can take," Joshua says.
But without an amazing person to lead these students, the class would not be what it is. As Joshua explains, "He's not only a really nice guy, but he's a great teacher too. He's always willing to go that extra mile to help kids out if they need help or anything else." That is evident as I watch Scott sit down with one of his freshman students to explain how an engine works. Today the class is building diagrams to break down the mechanical process before they get their hands on a real engine.
Scott says watching the lightbulb go on and seeing the students' excitement is his favorite part of teaching. "They're using their hands, they're getting up doing stuff; they love being in the shop. They're having to do the hard work, and I'm just facilitating. And that's awesome because that means they're having to learn."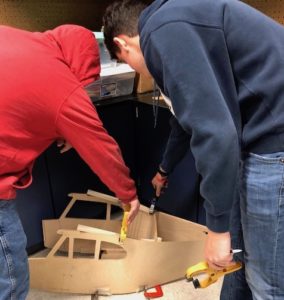 Their successes become Scott's successes. With three former students studying at the United States Air Force Academy and another enrolled in the flight program at Central Washington University, it is clear the impact a great teacher or class can have.
The aviation program at Black Hills High School is currently looking for wood and metal tool donations along with an old, four-cylinder, air-cooled engine for the students to learn on. I
f you have materials you would like to donate, contact Scott Cutler at scott.cutler@tumwater.k12.wa.us.