Winter break is right around the corner and if you're a parent like me, you might be wondering what to do to keep the kiddos occupied. Although it's the most wonderful time of the year, filled with family, friends and often too much food, sometimes you just need to get away from it all. In this month's Thrifty Thurston we highlight some great day trips and local activities you can do with the whole family over winter break.

Rediscover something that's right in our backyard – Mount Rainier National Park. It's the perfect day trip for all ages, even if you aren't an outdoor enthusiast. Drive up the mountain early in the day to the Visitor's Center at Paradise where you'll find a cafe, historical information and a great spot to play in the snow on their sledding hill Be sure to check weather conditions before heading out. Also, be aware that you must carry chains in your vehicle during the winter months, even with a four-wheel drive vehicle.
Stop by Northwest Trek for a wildlife adventure unlike any other. This educational park has animals native to our area and a tram to view them from so rainy weather won't stop the fun. However, if the sun does decide to shine, there are also plenty of trails to explore and a great new nature inspired playground for the kids. A new Elk Bugling and Animal Keeper Tour are also available. While they are not on the thrifty end of the spectrum, they'd make a perfect holiday splurge for animal lovers in your family.
If the mountains and woods are not for you, head in the opposite direction to the coast and enjoy the Pacific Northwest tradition of digging for razor clams. Although it can tend to be a little cold and wet at the ocean this time of year, the sheer joy of chasing after these mollusks will make you quickly forget the temperature. Check out this ThurstonTalk article to make sure you are well prepared with all you need to know for this adventure. Razor clam tides are tentatively scheduled to start December 31, extending into the new year. Check for current razor clam tide information here before you go. You can also rent crab pots and try your hand on the docks of Westport. Either one is sure to prod
uce a tasty meal for everyone.
Volunteer with your family at a local non-profit to experience what this season is really all about. The Union Gospel Mission or the Thurston County Food Bank are good places to start. However, plan ahead as both require all volunteers to undergo training. If this doesn't fit your schedule, organize with friends and family to collect food to donate. You'll still be doing a world of good. The Salvation Army also appreciates blanket and coat donations this time of year, so spend a day going through those closets. To volunteer outdoors, check out these options in the Nisqually Watershed. For more ideas, read this full article from our archives with a host of holiday volunteering options.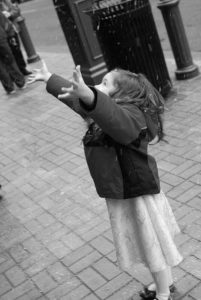 Take in a play or musical performance at one of the many theaters in the area. The Nutcracker is always a favorite at the Washington Center for the Performing Arts and Kenneth J. Minnaert Center during the holiday season but performances wrap up on Sunday, December 17 so book tickets now. This traditional ballet will delight both kids and adults and probably become a yearly favorite. Or check out the schedules for the Olympia Little Theatre, Harlequin Productions, and Olympia Family Theater for musicals, comedies, and other unique showings. And, for a special night out this weekend, catch Apple Tree Productions staging of the classic show, Annie. Filled with local youth actors, this show is sure to make everyone smile on December 15, 16 and 17.
Craft a project to benefit Thurston County Animal Services. Even if you aren't able to adopt a pet or foster one, you can still help the homeless animals in our area. From pet toys to dog houses, plans are available to make several different items that are needed at the shelter. Grab your tools, some instructions and your family to help an animal in need. Animal Services also accepts food donations, blankets and towels. Remember our furry friends on your next shopping trip or when you go through those closets.
Enroll the kids in one of the many great winter day camps. Lacey or Olympia Parks and Recreation are great places to start, both with a wide range of daily activities. Or check out the Hands On Children's Museum for their half-day camps focused on science, art, and nature. Boys & Girls Clubs of Thurston County also offers a full day option at many of their locations for those needing childcare at the same time. Wherever you go, be sure to sign up early as spots fill up fast for these great camps.
So whether you're looking for a family adventure, a way to give back or just something new to do, we've got you covered. Also be sure to check our Events Calendar on a regular basis for all the latest happenings in the area.
Thrifty Thurston highlights inexpensive family fun in Thurston County. The weekly series focuses on family-friendly activities throughout our community. If you have a suggestion for a post, send us a note at submit@thurstontalk.com. For more events and to learn what's happening in Olympia, Lacey, Tumwater and the surrounding area, visit our complete events calendar.