Last year, students and staff at Pope John Paul II High School (JPII) were very pleased to have Brother Guy Consolmagno as the keynote speaker for their annual Light and Truth Gala. Br. Guy, often referred to as the "pope's astronomer," is an MIT graduate, former Harvard research fellow, and current Director of the Vatican Observatory.

Br. Guy encouraged students on their future college careers, advising them to pursue their interests and what makes them happy. He also spoke about the bridging of both science and faith.
"Really if one looks at it with a scientific point of view you can see that there's actually so many connections, and it's really beautiful to see," says sophomore Annika Dawley.
Annika is a member of the schools STEM Speakers Series team, which began in order to bring noted professionals in the science, technology, engineering, and mathematics fields to campus to share their knowledge and enthusiasm. It was because of these students, who first wrote to Br. Guy, that he agreed to visit and speak at the school.
"Just given the opportunities, it's amazing to watch what [students] will and can do, and once they decide that they can do those things, they do it," comments Ron Edwards, president of Pope John Paul II High School. "I think it's one of the things that happens here almost naturally. I think that's in great part due to the staff, you have to have a culture that buys into that, and lets students make some decisions."
Much of the academics and student-life at JPII is very student driven. Thanks to small class sizes—the average class has 13 students—they can pursue their interests and also get the attention and support needed to succeed. To graduate, students are required to take four years of math, and three years of science courses. 69 percent of students take more science credits than required.
"I really like veterinary science and I like focusing it on some of the other wonderful programs that JPII offers such as our marine biology course and our veterinary science GradPoint, which I'm especially excited for this coming year," says Annika.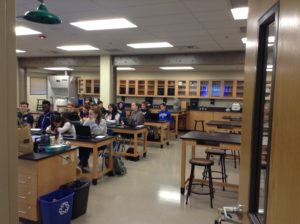 GradPoint classes offer online opportunities for JPII students to earn extra science credits in various fields, including JAVA programming, biotechnology, astronomy and more.
In addition to the required biology and chemistry classes, students can take physics, marine biology, and marine environment. Last fall the marine biology students worked with the STREAM Team to conduct a forage fish spawning survey. This spring, the marine environment students will work with the Nisqually tribe's hatchery on salmon marking and tagging.
JPII students get hands-on learning in the classroom as well, thanks to their two new science laboratories. Both labs have a Promethean Board, a large digital whiteboard that allows teachers and students to share information. The students can also access the board from their classroom laptops, as well as interface information from laboratory data probes.
The learning doesn't stop in the classroom, however. JPII students have started several academic and science based clubs, including a Robotics Club and a Beekeeping Club.
"This year Mr. Holland and I founded the Beekeeping and Conservation Club, with the intent to teach kids more about what it's like to keep bees and the importance that they have on our environment," says junior Carly James.
So far they've received donated bee boxes and have made mason bee hives, which they plan to start keeping soon. They'll be kept on the property of the school's secretary, Mrs. Panesko, who lives nearby.
Students also have the opportunity to participate in the school's farm project, Our Common Home Farms. The farm partners with Saint Martin's University and Jeff Crane, professor and environmental historian. The focus for JPII students is to learn about sustainable agriculture, and using that to help feed the poor. Last year student farmers donated over 1,500 pounds of produce to the Thurston County Food Bank.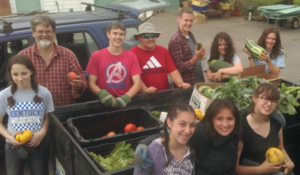 Serving the community and especially those in need is not new to JPII students, who all perform at least 80 hours of community service before graduating. "From that they're learning that we're not doing this just to attain marks and write it down on college applications," Megan Farrell, the schools advancement director, explains. "We're doing it because we have the power to use that to make the world a better place."
Their work in the classroom and the community helps fulfill the overall mission of JPII high school, to develop students "who are intellectually strong, spiritually alive and committed to serving the needs of others."