St. Patrick's Day celebrations are in full swing at O'Blarney's Irish Pub in Olympia, as the local family friendly pub kicks off a number of events this week.  You don't have to be Irish to enjoy the food and festivities that begin on Thursday and run through the weekend.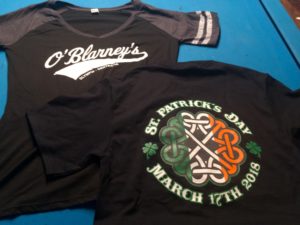 Throughout the week, O'Blarney's has T-shirts on sale printed by Spin Tees of Olympia. Purchase a shirt in advance and wear it on St. Paddy's day to receive front of the line privileges. Get all the specifics from the bartender when you buy your shirt now through Friday.
On Thursday, March 15 join your friends for Pub Quiz Night sponsored by Guinness. There will be prizes for the top three teams and giveaways throughout the night. This free event runs from 8:00 p.m. to 10:00 p.m.
On Friday March 16, O'Blarney's will be hosting a business lunch. They recommend you make reservations. Live music will be provided by the Irish Sessions from 11:00 a.m.to 1:00 p.m. In the evening, you will have your first chance to see Slainté, an Irish Rock Band out of Lacey that likes to mix up traditional and non-traditional tunes. They will start at 8:00 p.m.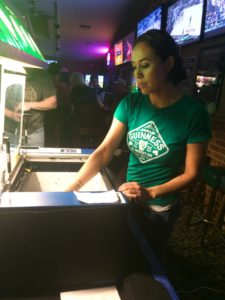 A lot of preparation goes into this week, and owner Mike Heelan has been hard at work with his staff getting everything organized. The bar is stocked with favorites like Guinness, Harp, Smithwicks and Kilkenny.  Heelan has ordered 7 cases of Jameson whiskey. He expects to go through 24-25 kegs of beer, much of it emerald hued. Other favorites will be available, including Irish Car Bombs. Between St. Patrick's Day and the March Madness playoffs, this month will be his busiest all year.
The O'Blarney's St. Patrick's Day celebration goes back more than 30 years. Opened in 1984, O'Blarney's Irish Pub's first big St. Patrick's Day didn't happen until a few years later when Heelan's dad, met the Royal Irish Rangers, a military band from the British Isles, who were visiting Fort Lewis. He invited them to his pub, offering them all the beer they could drink. When the Royal Irish Rangers arrived at O'Blarney's, they were so popular, people lined up to buy them beers at 90 cents apiece. Heelan says a lot of people didn't stick around for their dime in change, so by the end of the night there was about sixty dollars in dimes in the pitcher at the end of the bar from all the beer that was poured that night.  He attributes that night to making O'Blarney's a mainstay for celebrating St. Patrick's Day in the region ever since.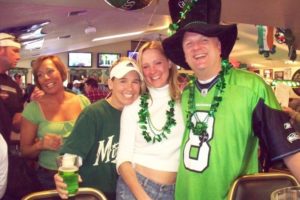 Saturday is the big day. Put on your green and head over to the pub. From 12:00 p.m. to 4:00 p.m. the SS Firefighters Bagpipes will play. More live music begins at 6:00 p.m. in the family friendly dining room. Irish Dancers will begin and 8:00 p.m. And at 9:00 p.m you will get another chance to see Slainté play. The pub promises to be hoppin', and you can bring your friends or make some new ones.
St. Patrick's Day fare will feature a dozen or so of O'Blarney's most popular items like bangers and mash, hearty lamb stew, Irish American favorite corned beef and cabbage, fish and chips and shepherd's pie. The family friendly dining area will be a great place to celebrate all things Irish.
After the St. Patrick's Day festivities, O'Blarney's Irish Pub invites you back on Sunday for a Hangover breakfast with hearty breakfast staples like the Dublin scramble. Bloody Mary's, screw drivers and mimosas with also be available for $4 each.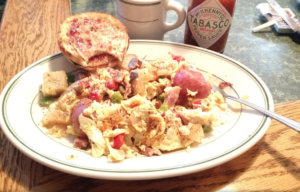 Check out O'Blarney's on Facebook and Instagram to get a look at festive memories from the past years, or better yet join them this year and make some fun memories of your own.
Olympia O'Blarney's
Monday – Sunday: 7:00 a.m. – 2:00 a.m.
4411 Martin Way E
Olympia WA 98516
Phone: 360-459-8084
Sponsored