Have you ever thought about a trip to the veterinarian's from your cat's perspective? "If you think about it, cats are really shut-ins – recluses – and they want to be," says Dr. Natalee Rosinski, one of the veterinarians at Healthy Pets Animal Hospital in Olympia. "They never leave the inside of their home, or maybe their house and backyard." So imagine, she continues, being removed from that safe environment and arriving in the unfamiliar space of a veterinary office, full of new and sometimes scary smells, sights and sounds. Healthy Pets Animal Hospital hopes to ease the stress of this situation through an expansion into a new building, located adjacent to the existing clinic that will be a "fear free" feline only hospital.
"Going to the vet can be stressful for cats," Dr. Rosinski explains. "The new building is our way of easing some of that fear." The 1,500 square foot cat clinic will help kitties stay calm through many means, but the primary one is that it's a feline only clinic – no dogs allowed. "Some cats are never in contact with dogs, so even just hearing and smelling them can stress the cat," she adds. With a separate building, the cats won't have to see, hear or smell dogs when they visit.
Opening this spring, the cat clinic will have three exam rooms, a kennel space and a treatment area. Also included are amenities specifically to make cats feel more comfortable. This includes using Feliway – a calming pheromone for cats – in the clinic and cat trees or other perching spots in the exam rooms. Healthy Pets will also use items like yoga mats to make the exam table non-slip helping cats feel more in control.
Fear Free Focus
The most important aspect is the vet clinic's dedication to fear free handling. "When we take a cat to the vet it's like an alien abduction to them," says Dr. Rosinski. "That's the best way to describe it. Fear free handling is about trying to destress them as much as we can."
Cats do not calm as quickly as dogs or humans, so the effects of a vet clinic visit can linger even after the cat is safely home. Healthy Pets is hoping the new clinic will reduce stress during the visit to help ease the transition back to the safety of home.
To that end, the veterinarians are all certified Free Fear practitioners. This certification program was created by vets for veterinary professionals. It consists of eight modules that teaches them:
Techniques to reduce or remove anxiety at the clinic, at home and in transit to the vet's
How to help owners bring in a calm pet
Improve safety and compliance
Humane handling
All of these increase the quality of care the cats receive. "Not only does this help comfort cats during their visit, but minimizing the stress allows us to conduct better exams, which then helps the owners make better choices when it comes to care," Dr. Rosinski explains. "This results in better quality of life for the cats and that's a big deal for us and owners."
Part of "fear free" philosophy involves teaching clients how to reduce stress in their cat's life at home as well. Everything from handling to transport will be discussed with cat owners. And not just for vet visits, but for any activity cats may find stress-inducing including grooming or vacations.
Dr. Rosinski says that in 2018 the Free Fear program will expand, offering a Fear Free Clinic certification. Healthy Pets Animal Hospital will participate.
Oly Cats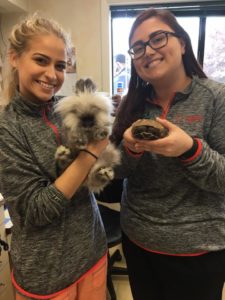 Drs. Natalee Rosinski, Whitney Trepel and Kelly Murphy, the three veterinarians at Healthy Pets, will all work at the feline clinic, now officially named Oly Cats. They have also hired a fourth vet, Dr. Danielle Mechur, who joined the team in July.
The new clinic will also see exotics or "pocket pets," such as rabbits, guinea pigs, hamsters, rats and more. If a client is bringing in a dog and a cat at the same time, they will still be seen at the current Healthy Pets location, not the new feline clinic. The new building will also increase parking, benefitting all clients and allowing Healthy Pets to book more appointments at both locations.
For more information on the new clinic or to schedule an appointment, visit the Healthy Pets Animal Hospital website or call 360-943-8900.
Sponsored