The 2017-2018 concert season at the Student Orchestras of Greater Olympia (SOGO) is a walk down memory lane for many involved with the organization. Musical director John Welsh is retiring after 18 years with SOGO and a musical career spanning 51 years. This concert season at SOGO will celebrate Welsh's career with some of his favorite pieces. However, Welsh isn't the only one experiencing a bit of nostalgia.
Krina Allison, SOGO executive director, and her husband, Greg, artistic director and conductor of the SOGO Brass Choir, found themselves reliving memories of their time as student musicians when they recently mentored students on pieces that they themselves played in high school.
SOGO currently trains 140 students with a program that strengthens their abilities in sight-reading, basic to advanced instrument pedagogy and musical artistry by playing selections from the standard orchestral repertoire. Students practice weekly and participate in concerts held at the Washington Center for the Performing Arts such as the upcoming March 4 Winter Concert.
Now in its 18th year, SOGO has inspired former students to return as teachers. Casey Felt joined SOGO as a 15-year-old freshman in high school. Felt studied under a number of local instructors who would one day be his colleagues when he returned to Olympia. He explains that the change from student to colleague took a little getting used to, but he never would have gotten to where he is now without the connections he developed at SOGO before he went to college. In 2009, Felt left the area to study music at Central Washington University where he studied under artists John Michel and Carrie Rehkopf, the artist duo that will be featured in the March concert.
Casey Felt speaks positively of his time at CWU and especially of working with John Michel. "Learning from him was a wonderful experience," he says. "He is such a positive and inspiring musician. His knowledge and passion for music made for a great college experience."
For the past three years, Felt has been a teaching artist, mentoring students that were once just like him. He credits the positive experience he had as a student member of SOGO to his return and appreciates the opportunity to gather more experience teaching music to others.
SOGO fosters an appreciation of music and develops connections for students, inspiring them to go on to college and continue the study of music throughout their lives. Krina Allison attributes the relationships developed with the student focused CWU music department as an important factor to the success of the young SOGO musicians.
The interactions between Rehkopf and Michel and the students extend beyond their participation in concert performances and rehearsals. Recently, while in Olympia for a rehearsal, the two visited the Orchestras of Capital High School and North Thurston High School. As inspirational as these seasoned musicians are to the students, they are also inspired by the students that they teach. "Student musicians are open to change and are flexible," Michel states. "they adapt and make incredible improvements right up to the performance."
The duo will return to Olympia on March 4 to play in SOGOs winter concert. The penultimate concert performance for Director Welsh will feature a number of his favorites from his half-century long musical career. Selections include Concerto for Violin and Cello with Orchestra by Brahms, which will spotlight Rehkopf and Michel, with performances of Respighi's Pines of Rome by the Conservatory. The Brass Choir, directed by Greg Allison, will perform Gabrieli's Canzon XII, Bach's Wachet Auf, and Joplin's Bray Elite while the Academy and Debut Orchestras will be performing arrangements of works by Beethoven, Brahms, Rossini and Smetana.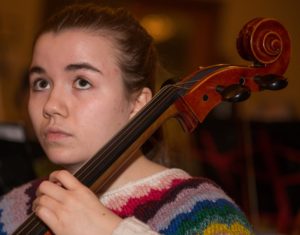 In addition to the Winter Concert, SOGO would like to invite children of all ages and their families to attend their Instrument Petting Zoo during Arts Walk in April. The petting zoo will take place at the Washington Center for the Performing Arts from 2:00 p.m. – 4:00 p.m. Zoo Keeper musicians will be on hand to demonstrate a variety of orchestra instruments or answer any questions they may have. This free event is fun for all ages.  Don't miss it.
Tickets for the Sunday, March 4 concert can be purchased online or at The Washington Center box office. Tickets range from $10 – $16 and student, senior, child and group discounts are available.
Sponsored