On the second floor of the Olympia Federal Savings branch in downtown Olympia, Carrie Whisler's office is a sea of boxes. She is bustling about with excited energy when I arrive. While an office full of boxes is often a bad sign, in this case, it's quite the opposite. Whisler is Oly Fed's commercial relationship manager and one of three team members moving into the brand new Center for Business Banking and Wealth Management opening next door to the Lacey branch.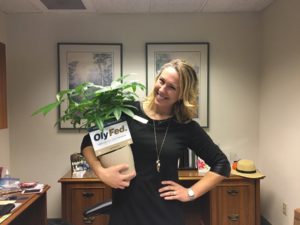 "It's a great opportunity for us," says Whisler. "The residential lending department is very robust and needs more space here at the main branch and the space opened for us by the Lacey branch, making it all work out." Home to Oly Fed's commercial banking team and OFS Financial Services, Carrie will be joined by Ken Pekola, another commercial relationship manager and Jason Andrew, a financial advisor with OFS Financial Services who offers investment products through Cetera Investment Services, LLC*.
The move is a sign of the growing business opportunities here in Thurston County. The results of the EDC's 2017 Economic Vitality Index shows we were at an all-time high (118.2) at the end of last year. The index is calculated monthly based on:
Total residential building permits
Initial unemployment claims
Consumer sentiment
Stocks of local interest
U.S. securities yield spreads.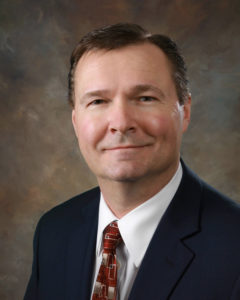 This indicates that Thurston County's economy is continuing to look favorable and is on an upward trend. In addition, a survey showed growth as the main goal for most local businesses. "In our most recent survey of Thurston County CEO's, local business leaders said they expect profits from their economic sector to come from market expansion," says Michael Cade, Thurston EDC executive director. "This is a significant change from prior years when CEOs identified both new technology and cost reductions as the anticipated major source of increased profits."
Some of that market expansion might be happening right here in Olympia according to Mike Reid, Economic Development Director with the City of Olympia. Reid points to the most recent U.S. Census figures that show Olympia as the 23rd fastest growing area in the United States.
In opening this center, Oly Fed is positioning themselves to support their business clients as they enter this exciting time of growth.
Where Business Grows
The location for the Center for Business Banking and Wealth Management has its perks, both for employees and customers. Since Whisler and Pekola support all the bank branches, being located in Lacey makes them more central for travel. And, it's right next door to South Puget Sound Community College (SPSCC) and the Thurston Economic Development Council (EDC).  Whisler is on the board of the SPSCC Foundation as well as on the board of the EDC, so she is nearby for meetings. "I refer customers to the Center of Business Innovation all the time, and now it's right next door, which makes it even better," Whisler says. "I can even walk them over there to make a personal introduction. It's much more convenient for our customers."
"We are excited to be able to configure the space for meetings large and small, while having access to the latest technology and tools that will make reviewing business plans, loan documents and financial statements even easier and more comfortable for our customers," Pekola adds. Larger offices and conference space mean more room to conduct business, including space for Pekola to spread blueprints out with ease.
As a partner to Oly Fed, Jason Andrew* provides financial services to small business clients. "Small businesses don't have retirement plans provided to them like maybe a corporate employer would," shares Whisler. "Having someone we can refer our customers to in-house to answer questions about long-term planning and retirement, to help make them feel at ease, is wonderful."
And of course, the Lacey Oly Fed branch is right next door, so business owners can get everything they need done in one stop, including depositing checks, checking on loans, picking out a retirement plan and even getting help from the resources at the EDC.
"We know business owners are busy and the convenience of this location is really going to help our customers and that's a passion of ours, to help them succeed," says Ryan Betz, marketing and public relations manager for Olympia Federal Savings.
Come Celebrate the Grand Opening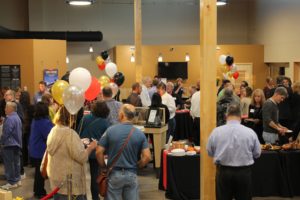 Join the community to welcome Carrie, Ken and Jason to their new home and learn about all the good things the center can do to help your business grow in 2018 and beyond. The grand opening takes place February 15 from 5:30 p.m. to 7:00 p.m. in conjunction with the Thurston County Chamber business after hours. They will have great food, drinks, prizes and "big kid" activities from the Hands on Children's Museum. To learn more, visit the Olympia Federal Savings website.
* Securities and insurance products are offered through Cetera Investment Services LLC (doing insurance business in CA as CFGIS Insurance Agency), member FINRA/SIPC. Advisory services are offered through Cetera Investment Advisers LLC. Neither firm is affiliated with the financial institution where investment services are offered. Advisory services are only offered by Investment Adviser Representatives. Investments are: *Not FDIC/NCUSIF insured *May lose value *Not financial institution guaranteed *Not a deposit *Not insured by any federal government agency. Located at: 8300 Quinault Drive NE, Lacey, WA 98516 (360) 493-1800.
Sponsored