ThurstonTalk and NorthAmericaTalk are excited to announce the expansion of their Community Social Networks and media services by hiring Spencer Spotts as their new role of Community Talker.
"It is exciting to see our Community Social Network product growing while continuing to build community brand trust," said Dan Jones, CEO of NorthAmericaTalk.
Spotts lives in Lacey and comes from a diverse background in social media content creation, journalism, non-profit work and community involvement. He joined our team at the beginning of January 2018 as both ThurstonTalk's Community Talker and NorthAmericaTalk's Social Media Brand Manager.
"I'm passionate about community storytelling and using journalism and social media to deepen connections between community members," said Spotts. "That's part of the reason I love the @Talk platforms so much: the power of story can have an incredible impact on the way communities come together, which makes our work really meaningful and rewarding."
This new role of Community Talker will serve as a local content creator who is on the streets reporting on and developing timely content. For example, you may find Spencer at a local fundraising event one day and capturing photos of the sunrise on the Port of Olympia the next day. Stories from the Community Talker are then published within 1-2 days of the event, often even the same day.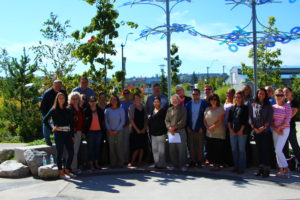 Additionally, Community Talker content will begin to increase ThurstonTalk's use of various forms of visual media such as photography and film. By introducing more timely and visually diverse media, the Community Talker will expand ThurstonTalk's ability to produce and distribute content that captures what it's like to live, work and play in Thurston County.
"Having Spencer's knowledge, drive and skills integrated into our team allows us to create additional timely content which is something the @Talk team has been working toward for 60 months," said Jones. "We are excited to continue to provide additional styles of content to our local users and capture even more memories and moments in our community." 
You can follow content created by the Community Talker on the Community Talker channel as well as our Facebook and Instagram pages.
If you would like to have our Community Talker and/or ThurstonTalk cover your event or story, please contact us at submit@thurstontalk.com.