In less than a month, Capital High School will be opening their doors to a new and innovative program known as Cops and Kids, Bridging the Gap. Each Friday during Club Time, students will have the opportunity to work out and connect with local police officers, such as Olympia Police Detective, Jason Winner.
"This is a grassroots effort to bring the community together," explained Jason. "Our goal is to create positive relationships with teenagers. I had the gift of positive influences throughout my life and I see this program as an opportunity to pay-it-forward and give something back to my community."
Cops, kids and exercise? A seemingly simple recipe with the potential to positively impact not only this generation, but also those to come.
Cops and Kids, Bridging the Gap combined with the exercise program being offered at Capital High, are actually just two components of a larger initiative known as the P2P (Preparing to Prevent) Fit and Safe Campaign. Other components include social media education; suicide awareness and prevention; safety, security and situational awareness training; nutritional education; and anti-bullying initiatives.
Capital High School principal, Curtis Cleveringa, is looking forward to the Cops and Kids Program kicking off at CHS. 
"We are very excited about the partnership," shared Cleveringa. "I'm really looking forward to having great models partnering with some of our students. I know the Capital High School community will be the better for it."
February 16 is the official kick-off date for Capital High's Cops and Kids Program. Jason, his Olympia Police Department colleagues and his brother-in-law, TJ, are just some of the amazing folks volunteering their time to make this program a success from day one. TJ is the mastermind behind the workout equipment that students and police officers will be using.
"The workout equipment was invented and patented by TJ. It's been used by professional athletes, first responders and members of the military. That's how it was originally used, but it's designed for use by people of all ages and all fitness levels," said Jason.  "It's a total body workout, taking your muscles to the point of failure. It has no moving plates, is incredibly safe and is set up to be used in a group meaning you succeed and get stronger together."
Besides the obvious fitness and overall health benefits, the Cops and Kids program gives both students and the community a chance to see our police officers behind their badges, as individuals and advocates of safety and wellness. As the workout program progresses, students grow from being pupils, learning and practicing the routines, to leaders, coaching and encouraging their peers and the officers.
The Cops and Kids workout program aims to educate, train and empower every participant to respect and understand themselves and others, while equipping each one to reach their full potential.
"This program is so important for our community because it gives police officers a chance to interact with kids at a pivotal time in their lives," added Jason. "I feel like police are community leaders by default, it's what should be expected of us. It's our duty and honor to find ways to reach out on our own and try to impact the people around us."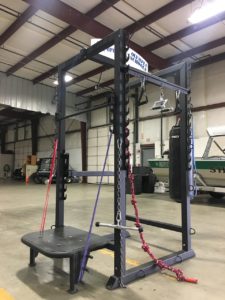 Jason, TJ and their team of volunteers will be donating not only their time to Capital High, but the workout equipment as well. They are committed to providing every resource the school will need at no cost to the students or the district. While some funds have been raised already, donations to the Capital High Cops and Kids program are still being collected with a fundraising goal of $3,000 which covers the cost of manufacturing and equipping the workout machine.
If you are interested in contributing funds to the cause, you can contact TJ directly at Tjp2pfitandsafe@gmail.com or 541-390-3070.
Be part of something extraordinary, donate today and spread the word about Cops and Kids, Bridging the Gap launching February 16 at Capital High School. Because, when law enforcement and public safety officials work alongside students, schools and communities a strong, positive and trusting foundation is created, powerful enough to last for generations.