"If you've got it, leave it. If you need it, take it."
This is the philosophy behind the Littlerock Sharing Spot. Elizabeth Clarke has shared the bounty from her property at that location for many years. She bought her house near the Littlerock junction in 1999. The one-acre property has mature trees that produced way more pears, apples and cherries than she and her kids could eat, so she would fill a wheelbarrow and place it out near the road with a sign reading, "horse pears", intending for folks to take the surplus to their horses.

A few years ago, Elizabeth placed an old picnic table under the shade of a giant fir tree and made a hand-printed sign declaring it the "Sharing Spot." She envisioned the Sharing Spot to be a place where anyone could pick up plant starts and garden surplus left there by local people who had more than they could use.
Then, social media really got the Sharing Spot going. Elizabeth started posting notices on the Littlerock Community Facebook group page when she had an overabundance of eggs or vegetables. Others followed suit.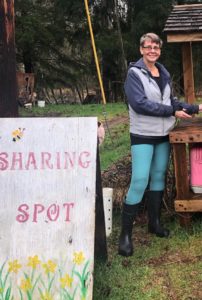 It was not long before people started leaving more than just food, and it became a year-round attraction. That worked well if someone took what was dropped off, but sometimes things would collect and get wet and moldy if they sat out in the weather too long. Elizabeth could no longer drive nor afford to haul away garbage, so she posted a notice on the Littlerock Community page again, explaining her situation. People responded by volunteering to haul away the junk and helping to maintain the area.
Paula Ross Lutrell arranged for inmates at Cedar Creek Corrections Center to build a new table with a roof and lower shelf. Someone painted the tall A-frame sign and a batik art panel just appeared one day. There is room for a few hangers to display clothing under the shelter and a cooler for eggs and produce.
Now that others in the community know the parameters, the spot is better maintained and there is less that needs to be hauled away. Once in a while, a large quantity of odds and ends shows up. Elizabeth thinks that happens when someone is moving, and things are hastily dropped off. Usually though, people just leave a few small items that disappear pretty quickly. She keeps an eye on the area and posts notices if something is out there of particular interest or value. The day I visited, Elizabeth put out three dozen duck eggs. Later that day people posted they had dropped off potatoes, onions and canned goods.
Since Littlerock has no grocery store, and Elizabeth no longer drives, she is clearly grateful for the Sharing Spot. "Any number of times I have thought, 'I need this or that,' and I'll go out to the Sharing Spot, and there it will be," she explains.
"There is a lot of need in the community," Elizabeth explains, "but people are reluctant to ask for help." That is one reason the Sharing Spot has been such a success. It can be an anonymous way for people to receive. "There's even been prepared food left there, and it quickly disappears," she adds.
Asking for help is hard for many people. That is a lesson Elizabeth had to learn herself, and the Sharing Spot has given her that opportunity. If she needs help hauling things away or if something needs attention, she will mention it to the Facebook group, and it is quickly taken care of.
"Whatever the community puts into the Sharing Spot is what we get out of it," she says.
Elizabeth pointed to the gravel between the stand and the road. She had been thinking of asking someone to put gravel there because it was getting muddy with all the rain and traffic, but someone had already done it. "See…it's a community effort," she declares.
For Elizabeth, the Sharing Spot may be something she provides the place for and she may be the one who started it, but it belongs to the community. And, because others in the community help to maintain it, they are also invested in its success.
The Sharing Spot helps put food in hands of people who can use it, and that is a good thing. It also gives useful items a second chance for a new home, reducing waste. A third benefit is providing a connection point for people who live in the Littlerock area ­– a tiny town with no sidewalks, surrounded by rural properties and farms.
People have left thank you notes expressing their gratitude for what they have found there. "One woman even told me she bought her house near Littlerock because of the Sharing Spot," Elizabeth says.
From the Littlerock experience, it is clear a Sharing Spot can be a community-building asset with many benefits. For anyone interested in starting one in their area, Elizabeth recommends setting out the parameters from the beginning and making sure everyone understands what the place is for. Even posting notices or signs in more than one language can be helpful. And, she points out, "Not everyone reads."
Be prepared for a learning curve. It may take time for the people using the spot to understand what it is for, but the more people you can get to participate in the care of the area, the more likely it will succeed.