Yelm's Prairie Hotel is truly at the heart of town, both geographically and as a hub of the community. Serving as a picturesque and comfortable spot for travelers, visitors and families, Prairie Hotel offers modern amenities, updated rooms and décor and a sense of community you just don't find in bigger city chain hotels.  Prairie Hotel is truly a member of the Yelm community.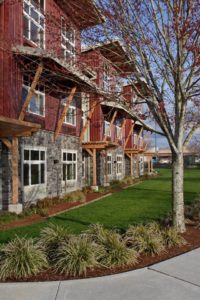 The hotel started with 24 rooms in its original building. As it gained popularity, the owners added another structure with 43 rooms bringing the total to 67. Conveniently located in the center of town, it serves as a gateway for visitors to Mt. Rainier National Park  as well as local attractions like Yelm Cinemas and Nisqually Red Wind Casino.
Visitors range from those with local connections to people just passing through. "During the holidays, we get a lot of guests who aren't staying at their families' homes," says Nick Durant, Prairie Hotel's manager. "We also get a number of construction workers who work at Mt. Rainier. We've been told that even though we're not the closest, we're the nicest hotel between here and Rainier." Much of their business comes through internet searches from people whose destination is elsewhere and are passing through, he notes.
Another key demographic are military families in transition. With Joint Base Lewis McChord one of the largest remaining bases operating in the United States, a constant stream of military personnel flows through Yelm for stays of varying durations. "We get a lot of military personnel," says Durant.
Prairie Hotel also holds the distinction of being the only pet-friendly hotel for miles around, with the nearest alternatives in Tumwater and Lacey. "You can always bring your dog with you," says Durant. Only certain rooms are dog-friendly, however, so it's important to include that information in your booking. Other select rooms include jacuzzi tubs which are popular at all times of year, he notes, and suites are available to accommodate families or those looking for a bit more room.
The hotel's busiest season begins with the onset of spring as outdoor recreation becomes more appealing. "Our business almost doubles as soon as the weather gets nice," says Durant. "A lot of people are headed to the mountains or nearby hiking spots. We get busy at the end of April and stay that way until the end of October. Usually there's a bit of a lull and then then things get very full again around the holidays."
Guests are frequently surprised by the quality of the accommodations, too, he says. "We get a lot of little notes about how clean our rooms are. People tell us they didn't expect the rooms to look as nice as they do."
As Yelm continues to grow, more travelers will have an opportunity to find out for themselves. "We're looking to fill a niche in the market," says Durant. While other venues can accommodate large groups, none exist within the city limits, nor do they also offer places to stay. "We're excited about what we can offer travelers and our local community."
For more information about Prairie Hotel, visit www.prairiehotel.com or call 360-458-8300.