When Martin McElliott took a call from Lowell Gordon, owner of The Creative Office, he did not realize that accepting a leadership role within the Lacey South Sound Chamber would open doors and lead to multiple years of service.
"When Lowell called me, we talked about the real need for people connected to the community, with an interest in seeing businesses succeed, to join the leadership team of the Lacey Chamber," said McElliott who is a co-founder of ThurstonTalk. "This is right up my alley."
McElliott, who recently completed his year as the chamber president, was first elected as the vice president three years ago. Now serving as past president, McElliott will ultimately volunteer his time for five years on the leadership team of the Lacey Chamber. In addition, McElliott serves on several planning committees and volunteers for other organizations.
During his presidential term, McElliott estimated spending 30-40 hours per week guiding the chamber. McElliott was quick to point out his time commitment was not the norm. "The chamber has challenges like any small organization – staffing, financial, turnover – but the good news is I feel I am departing as president with an organization in better shape than when I started," he said.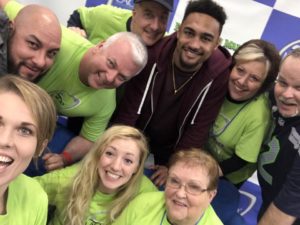 "Martin is a go-getter. We are beyond appreciative of the amount of time and effort he has put into our community. His humor, kindness, reliability and commitment to helping others are some of the wonderful qualities we recognize when thinking about Martin," said Blaine Land, executive director of the Lacey South Sound Chamber. "We are grateful to have him on our board because he is proactive, engages with our community, builds partnerships and challenges us to succeed."
"When you run another organization, like I did as president of the chamber, you become more attuned to the daily operations within your own business," said McElliott in reflecting on the positive impact his volunteer service had on ThurstonTalk and its six sister sites.
Graeme Sackrison, who took over the president's gavel from McElliott, said, "The skills that bolstered the growth of NorthAmericaTalk also helped the chamber. The investment is continuing to pay dividends. We all have benefited." Sackrison characterized McElliott as displaying "engagement, energy and business knowledge." Sackrison currently serves as president of the North Thurston Public Schools board.
"Martin is serious about helping businesses succeed while having fun," described Gordon. "Martin's involvement and commitment to our community along with his leadership and fun-loving personality represents the values important to the Lacey South Sound Chamber."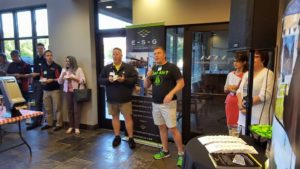 Land added, "Martin has been a tremendous asset to our chamber. He provides a wealth of knowledge, experience, and leadership to our organization and community."
"I credit all the local chambers, in each of our markets, as helping us succeed," McElliott said. "I have a real passion for business. Being a part of the Lacey South Sound Chamber has enabled me to be a part of business success even more."
To learn more about the Lacey South Sound Chamber, please click here.