It has been nearly a year and a half since Sofia Onishenko and her family opened Biscuit House, their first restaurant, in Lakewood. Biscuit House features all your favorites, from sandwiches and burgers to salads, but they are best known for their breakfast, served all day long. Whether you choose from one of their delectable omelets or one of their full breakfast platters, you will find it impossible to be disappointed.
Toyota of Olympia General Manager, Joe McCorkle, found Biscuit House by chance while out with his family. All it took was one visit, one unforgettable meal, and he was convinced. He needed to bring Biscuit House to Olympia.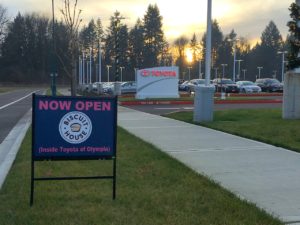 With a new dealership in the works, it was the perfect time to connect with Sofia and her family and incorporate the café into the plans for their new Tumwater headquarters.
"I didn't realize who Joe was at the time," laughed Sofia. "I made him wait and didn't return his call at first." But Joe was persistent and knew what his new dealership needed. Eventually they met and began planning for Biscuit House's expansion into Tumwater.
"Biscuit House is a great addition to Toyota of Olympia because my values and vision for great customer service, and what I expect out of my team, match what Joe believes and expects out of his team," explained Sofia.
Sofia brings to Biscuit House a beautiful personality, alive and full of hope, passion and importance for the work that she does.
"My family came to the United States just before I was born as Ukrainian refugees with my six siblings. They enrolled in Renton Technical College to learn English and my mother, Galina Onishenko, went on to study culinary arts and later got a job there," Sofia shared. "I am so proud of my mother and how she grew from putting all her efforts into working for someone else, something most of us do our entire lives, to now working for herself. It is the American Dream."
"Being a child of immigrants includes an immense responsibility to live up to your potential, to prove that the sacrifices your family made for you were not wasted," Sofia added. "At 21 years old, I found myself in a new profession, learning how to run a business, file taxes, complete payroll – all without formal training. I had never been challenged to this capacity, but Biscuit House is growing, and every struggle has been worthwhile."
You can find Sofia and Tumwater's new Biscuit House right inside the front doors of Toyota of Olympia. Wondering what to order when you get there? While the obvious specialty, biscuits and gravy, is not to be missed, Sofia recommends these Biscuit House classics: 
Turkey Provolone Melt
An all time favorite of Sofia's served with fresh tomato and slices of avocado.
Sunshine Pizza
The perfect breakfast pizza on a biscuit crust, loaded with gravy, bacon, ham, cheddar cheese, green onions and topped with two eggs. 
Full Biscuit Breakfast
Classic biscuits and gravy with two eggs, 2 pieces of bacon, 2 pieces of sausage and hash browns.
"Our recipes aren't secret," she insisted.  "We make meals with fresh, simple ingredients that anyone can replicate at home."
I've eaten her food, though. Not just anyone can make gravy that smooth, hash browns that perfect, scrambled eggs so fluffy or biscuits so mouthwatering.
The Tumwater location also has lots of grab and go options, like wraps and salads, plus a full-service espresso bar. December's holiday special is the White Chocolate Peppermint Bark Mocha and an every-day-favorite is the French Kiss Latte, a delicious combination of French vanilla, caramel, white chocolate and espresso.
Biscuit House was founded on simple ideas:  great food, affordable prices and excellent customer service. But so are many great businesses. What sets them apart?
It is undoubtedly due in part to the food, which words alone cannot give proper credit. But mostly, I believe it is due to Sofia and her staff who are truly some of the kindest, most welcoming people you will ever meet, leaving you feeling not like a customer, but like a friend.
"You have to be stellar in this profession," said Sofia. "Life is busy, and our customers choose to spend their time and their hard-earned money on our food. That is something that deserves respect and an exceptional experience."
Visit Biscuit House today inside the new Toyota of Olympia or have them bring breakfast to you via UberEATS. If you stop in, make sure to ask for Sofia.  It will be a meal to remember.
Biscuit House Tumwater
6969 Tyee Dr. SW
Tumwater, WA 98512
360-539-4012
Open Monday-Sunday 7:00 a.m. to 4:00 p.m.                                                  Sponsored