In eight previous state championship game appearances Tumwater High School had never got off to a start like this – jumping out to a quick double-digit lead less than 4 minutes into the contest.
And while the spectacular start was new to the program, the ending, unfortunately for the Thunderbirds, was bitterly familiar.
For the fourth time over the last six seasons, Tumwater walked off the Tacoma Dome turf with the second-place trophy.
Canon Racanelli threw for 316 yards and three touchdowns as undefeated Hockinson claimed its first ever state football championship with a 35-22 victory over the T-Birds in the Class 2A title game on December 2.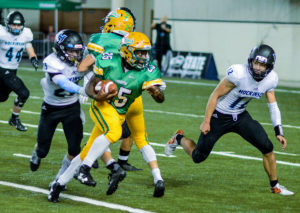 Tumwater finished the season with an 11-3 record, winning its eighth consecutive 2A Evergreen Conference title along the way and advancing to the state title game for the ninth time in program history.
"There's 60 some other teams in the state that wished they were playing today. We had the opportunity to do it and what a fantastic first season," said first-year T-Birds' coach Bill Beattie. "I don't think a lot of people believed the Thunderbirds would be here, but these kids just kept battling all year long. You saw even in this game the character they have. Right down to the end they were still scoring."
Dylan Paine paced Tumwater's ground attack, rushing for 105 yards on 22 carries. Paine finished his sophomore season with a remarkable 1,803 yards on 312 carries with 24 TDs.
Zane Murphy finished with 79 yards on 11 carries, while Jakob Holbrook, who scored on runs of 3 and 6 yards, added 69 yards on 10 touches for the T-Birds, who chalked up 268 yards on the ground.
Patrick William, who came up with an interception in the second quarter, was credited with a team-high eight tackles for Tumwater with teammate Jack Prentice getting in on five unassisted stops and three assisted tackles.
"I am so proud of this group and the way they rallied the whole season," Beattie said. "No one knew what was going to happen with this group, myself included, coming into a situation like this. The only way you could write a better ending is if we won tonight."
Paine ripped off a 45-yard run on the T-Birds' first play of game, taking the ball down to the Hockinson 19. Four plays later Murphy punched it in from 10 yards out and Tumwater was up 7-0 less than 2 minutes into the game.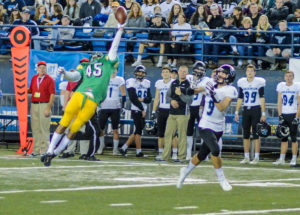 Things continued to go the T-Birds' way on the ensuing kickoff when Isaiah Rivera forced a fumble on the return which was recovered by Jacob Pati, placing Tumwater on the Hawks 18.
The drive stalled after Paine was caught for a 10-yard loss on a pass completion on third-and-9, but Nathan Seaman was able to boot a 44-yard field goal, ballooning Tumwater's advantage to 10-0 with 8:04 left in the first quarter.
The Hawks started to find their rhythm soon after as they scored 21-unanswered points behind three Canon Racanelli scoring strikes, including a 17-yard TD pass to Bailey Jones with 8 seconds left in the second quarter to give Hockinson a 14-10 lead at the break.
Trailing 21-10, Holbrook scored his first touchdown with just under 5 minutes remaining to cut the deficit to 21-16.
Needing the ball back, the T-Birds were unable to slow down the Hawks' offense on their following possession as sophomore Sawyer Racanelli, who also hauled in two touchdown passes from older brother Canon Racanelli, scored on a 48-yard reserve to give his squad some much-needed breathing room.
Whatever hope Tumwater had remaining following that big run was all but dashed 46 seconds later when Aiden Mallory returned an interception 45 yards for a score to push the Hawks ahead 35-16.
"Give credit to (Hockinson). They made some adjustments and came up with the big plays tonight when they had to," Beattie said. "Realistically, it could have been 10-7 us at halftime. They got one right at the end and that changed things, but we were right there. What a great championship game."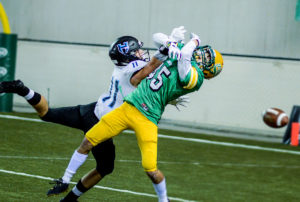 After going 5-0 in its first five state title games, Tumwater has dropped its last four games in the finals, also losing in back-to-back seasons to Lynden (2012 and 2013) and two years ago to Prosser.
The T-Birds' five trips to the 2A championship game ranks second among schools in the history of the classification, which was inaugurated in 1997. Lynden, a six-time state champion, sits atop the list with seven title game appearances.
Tumwater captured the 2A title in 2010 to go with a trio of 3A crowns (1987, 1989 and 1990) and a 4A banner (1993).