It all started when Kate Armstrong was a 17-year-old Running Start student at South Puget Sound Community College (SPSCC) and she came upon a homeless SPSCC student who was going through dumpsters in order to eat. When Armstrong learned that there were many more students who were doing the same thing, she knew she needed to take action.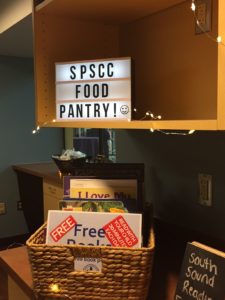 At the time, Armstrong was also working at SPSCC in the Student Senate as the Senator of Legislative Affairs. She approached college president Timothy Stokes about the possibility of opening a food pantry on campus for students. Over the next year, Armstrong, Stokes and many others on campus, including student leaders, administrators and the SPSCC Foundation, worked through logistical challenges such as finding a location that was visible to students yet private enough to maintain confidentiality. Staffing was also a challenge. "College food pantries are often unsustainable from a staffing standpoint," said SPSCC Foundation Executive Director Tanya Mote.
To overcome the staffing challenge, Armstrong helped revise the student leadership roles to include the responsibility of staffing the food pantry with student volunteers. "Kate's leadership made it happen," said Mote, whose interest in the food pantry was a natural fit. "Our work at the Foundation is about providing resources to eliminate barriers."
What started as an idea, inspired by a fellow student in need, is now a reality.
The SPSCC Food Pantry is now open 1:00 p.m. to 4:00 p.m. every Tuesday, Wednesday and Thursday. Food is delivered weekly by the Thurston Country Food Bank from their distribution center, conveniently located across the street from the SPSCC campus. The pantry operates based on a shopping model where individuals choose the type of food and package sizes that work best for their family and leave with their bags just like they would from a grocery store.
Along with their food, students can pick up personal bags of toiletries provided by the YWCA's Other Bank. And, because many of SPSCC's students are parents of young children, a variety of free children's books are available courtesy of South Sound Reading Foundation. While the Food Pantry was established specifically to benefit students of SPSCC, nobody will be turned away.
Mote praised the many community partners and the SPSCC community for pulling together to open the Food Pantry. When Mote sent an email to staff and faculty letting them know the Food Pantry project was moving forward, she received a variety of responses ranging from, "What can I bring?" to "How can I support it?" Mote says. "The staff and faculty support has been tremendous."
Armstrong, now 18 and studying Political Science at Western Washington University, has been interested in serving her community for as long as she can remember. "I first started getting involved politically when I started a voter registration drive at SPSCC. Then I lobbied at the capitol for SPSCC funding that same year," said Armstrong.
At the recent ribbon cutting ceremony celebrating the opening of the SPSCC Food Pantry, Armstrong's expressions alternated between beaming with joy seeing this project come to fruition and a look of concern as she discussed food insecurity among her peers. "This has just been the most incredible experience, seeing something so massive come to life," she said. "I think it is going to change a lot of students' lives. I have already been contacted by a couple of students who told me the food bank is their only source of food."
Armstrong also praised the community for pushing this dream to reality. "I really would like to thank the SPSCC Foundation, South Sound Reading Foundation, YWCA Other Bank and the Thurston County Food Bank. This would not be here without them."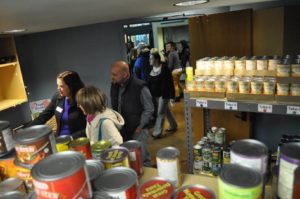 What she didn't say, but is very apparent, is that it also wouldn't be there without Armstrong's willingness to put in the effort and continue pushing the project forward.  People and partnerships can really make a difference in our community for everyone from the organizers to the recipients. The SPSCC Food Pantry is an example of this in action.
For more information about the SPSCC Food Pantry, email foundation@spscc.edu or call 360-596-5430.
Sponsored