I've spent enough time around Adam Barr to know that he couldn't get away from soccer if he wanted to. While visiting with him outside the Tenino IGA one afternoon, Tenino Youth Soccer parents stop to talk shop with him. Tenino Mayor Wayne Fornier walks by and razzes Adam about a tight game with Montesano. But Adam is so passionate about soccer that he likely wouldn't want it any other way.

As Tenino High School Athletic Director Josef Chirhart says, "When you come to Tenino and you talk about soccer, the first name that is going to come out of anyone's mouth is Adam Barr."
And that's because Barr has a long and dedicated history with Tenino Soccer. It started in high school when he and some of his buddies, who were big soccer fans, lobbied to start a boys' soccer team at the high school. They lobbied and they won, but sadly the team wasn't officially organized until the year after Adam graduated from school in 1995. However, his legacy has lived on.
Over the years, Adam became integral in the Tenino Youth Soccer program. Adam coached the Cobras, a girls' team with a winning reputation, for many years.
Monica Miner, mother of one of the Cobras' players, shares, "Adam has coached Morgan for the last five years, since she was seven. He has dedicated his time to the Cobras for two to three seasons a year. He has assisted them to 11 league championships, nine undefeated seasons, three district championships, and three third place finishes in the Washington State Youth Soccer Recreational Cup."
Miner recognizes Adam's place in the team's success. "It is very rare to get someone to dedicate the time for all these years to one group of girls. Without his dedication, the Cobra girls would not be as successful as they are. They will be trying for the State Recreational Cup for the fourth time this year. Due to Adam's new position with the high school, he had to hand the girls over to his co-coach, Mauri Severse. This is the first season together without him."
But, Adam is never far from youth soccer. Recently, while passing by a couple youth teams practicing at Tenino Middle School, I spotted Adam's silhouette on the field amongst the kids. He was helping a boy with his technique, not because it's his job, but because he loves to help. Parents standing nearby note that sometimes Barr just shows up.
This season, Barr has been assisting with U10 boys. "I'd like to start building up a strong boys squad for the future," he explains.
"He has dedicated time to varying boy's teams too and high school teams," adds Miner. "Our whole soccer club have been lucky to have his knowledge and dedication to the program for so many years. He is a rare and irreplaceable coach."
Josef Chirhart has been the new Athletic Director at Tenino High School for only a few months and Adam Barr was his first hire. At the high school girls level, Barr was previously the assistant coach to Anwar Wilson. But, when Wilson left Tenino to serve as an assistant coach at The Evergreen State College, Chirhart had several returners and parents put in a recommendation for Barr to become the new head coach.
Tenino High School girls soccer team captains Lara Kershaw and Ryan Wachter share what they appreciate about Adam as a coach.
"He knows that we're going to be good" says Wachter, "and that we play good defense and we should be playing good defense. He expects the best out of us."
"He's super laid back," adds Kershaw, "but not to the point where we do whatever. He lets us experiment at practice and he allows us to bond as a team. He doesn't force anything but allows us to be creative."
"We have been playing together for 11 or 12 years as team," chimes in Wachter, "so he knows we are going to be good and he knows we know how to control the ball, take care of the field and cover spots."
According to the girls, Barr's coaching style is often collaborative. "He tells us what he thinks we need to work on but he allows us to pitch in and say 'yes or no' or what we think that's different," continues Kershaw.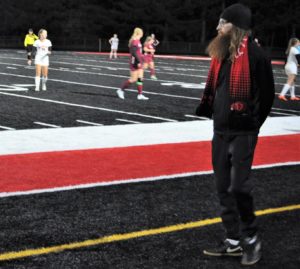 Athletic Director Josef Chirhart would like to see other aspects of Tenino Athletics develop the way that girls soccer has. And, if he needs to hire another coach in the future, he hopes that they, too, will have a hand in and experience with youth programs like Tenino Youth Soccer.
"As a coach myself," says Chirhart "I am totally supportive of the guys who have started youth programs and seen them all the way through. We are lucky to have Adam Barr as our coach. He submerges himself in our soccer community. One of the cool things about Adam is he's not too high on himself. He doesn't put himself on a pedestal."
This year has been an excellent season so far, but with a young team, it will be interesting to see what the future holds. There are only four seniors on the Tenino team and 18 girls moving up from the middle school next year, many of whom are from Adam Barr's former Cobra team.
The future looks bright for Tenino High School girls soccer. Come and cheer them on at their next match and Senior Night on October 26 as they play against Hoquiam.