If you've lived in Olympia for any length of time, you are likely familiar with one of the city's long-time gems – Radiance Herbs & Massage. A downtown icon for the past forty-two years, Radiance is the go-to spot for natural remedies, holistic health education and natural care products of all kinds. But, Radiance wasn't always the store you see today. In fact, the popular retail business grew out of the success of Radiance's true beginning: massage.
"The foundation of Radiance is really our massage practice," shares current owner Karin Olsen. "Before we ever did retail, we started doing massage. The two women that started that massage practice were also very interested in plants. So, they carried a selection of herbs as part of their healing options they offered to people. And that practice has just grown over the years." A massage practice that started small, Radiance now includes eleven massage therapists.
"Our therapists have extraordinary experience. We have several practitioners on staff that have more than twenty years as massage therapists, making it one of our greatest assets. I don't think there are any other clinics in our area with an equal number of practitioners and the level of experience," she says.
Because of their extensive backgrounds, the Radiance massage team also has a wide range of healing practices to offer customers. "Primarily, we do deep tissue and Swedish massage, which are kind of the basic standards," Olsen explains. "But we also have a special Radiance Massage." This treatment encourages individual therapists to use their individual skill set to provide the best massage possible. "It allows the massage therapist to pull from their satchel of years and years of experience to decide what techniques might be best used for a particular person. Each practitioner has a different set of tools they can draw from."
Ultimately, though, your massage experience at Radiance depends on what your goals are for the treatment. And if it's your first time receiving a massage, the team's gentle care and experience will put you at ease. "Because we have such a long-standing reputation in the community, people feel really safe at Radiance. We often see people who have never had body work before. And, if someone is apprehensive about getting a massage, all of our therapists are skilled in walking someone through the process, how you will receive the first massage and what you can expect from the experience," Olsen shares.
One way to ease into the experience is to enjoy time in Radiance's very own Japanese soaking tub prior to your massage. Not your typical bathtub, this special vessel is taller rather than longer, allowing you to soak with water up to your chest. "It's a wonderful addition to any massage," Olsen offers. "You can enjoy the soaking tub before you receive your massage so that your muscles are even more relaxed and ready to receive treatment. That way, your massage can be more profound and you can get more out of it."
Another key component to maximizing your massage experience is communicating your needs to the Radiance staff and doing a little research in advance. "We have a pretty fabulous website that includes our massage therapist's bios. You can get to know your massage therapist in advance and see if someone has a specific technique or training that you would be interested in," says Olsen. "We really focus on wellness massage and using bodywork to help facilitate greater health and wellness."
Because Radiance Herbs & Massage doesn't take insurance, Radiance strives to make massage more affordable by offering discounts on multiple appointments. With their varied hours massage scheduling can be worked around your busy life. Radiance is open seven days a week, including evening hours for appointments. Although you can call for a same day massage, Karin says they prefer people to schedule in advance to ensure you find the best time for you.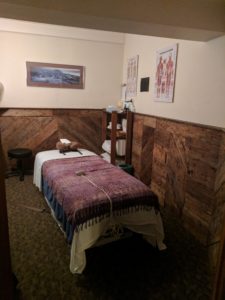 No matter when you visit or what your massage needs are, you're sure to walk out of Radiance Herbs & Massage feeling better than when you arrived. "Our massage therapists all have healer hearts and they love to bring relief and comfort to people," says Olsen. "It's greatly satisfying to be able to provide that for our community."
Learn more about Radiance Herbs & Massage online or stop by the store.
113 SE 5th Ave. in Olympia
Store: 360-357-5250
Massage: 360-357-9470
Hours:
Monday-Friday: 10:00 a.m. – 7:00 p.m.
Saturday: 10:00 a.m. – 6:00 p.m.
Sunday: 11:0 a.m. – 5:00 p.m.
Sponsored