The new Providence Community Care Center located at 225 State Street in Olympia has been open since Sept. 13 and is already seeing an average of 209 people a day. The center is a collaboration between Providence Health & Services and many local nonprofit organizations to help those needing access to housing, primary care, mental health and substance use care. The numbers the center is seeing tells those involved that this center was badly needed.
"People are definitely accessing services in a pretty significant way," says TJ Larocque, manager at Providence Community Care Center. "We are averaging between 8 and 10 mental health contacts and roughly 40 showers a day."
While the services that the center is providing have been available for years, having them all together, under one roof, makes a big difference. "I saw so many people come through the emergency department who may not have been at the level of crisis to need an inpatient mental health bed or inpatient substance abuse treatment, but were going through a lot of challenges in their lives and were currently homeless," Larocque explains during an interview with Thurston Community Media's monthly show, Mission Non-Profit. "We would send them back out after giving them referrals of where to go and making sure they weren't in crisis, but they would have to access that system on their own. Many don't."
Navigating the wide range of programs is not easy and many needing services simply give up. This is where the center comes in. Their goal is to "assist in navigating complex systems to help clients access the services they need in order to break a pervasive cycle and provide the essential components for healthy living."
"We knew this center could be successful because of the partnerships we have in this community," explains Chris Thomas, communications senior manager at Providence Health & Services, Southwest Washington. "They were already doing this work, just independently. TJ's background with crisis services and working with shelters, Interfaith Works, SideWalk … all the community partners … enabled him to put a finger on it. And then, through the philanthropy of generous donors coordinated through the Providence Foundation, we were able to open this center where all the local partners could come together and build on their partnerships under one roof, collaboratively, which makes it more effective."
Current partners include:
A Good Start, but There's Still Work To Do
The front of the building offers daily hygiene services including primary care (The Olympia Free Clinic offers clinics on Monday and Tuesday), showers and free coffee. "We are getting really good flow from the front to the back of the building where people are accessing additional services," says Larocque. "In addition, SideWalk has seen a huge uptake in the number of people they can see and service each day in terms of helping people find housing. It's definitely going really well on that front."
The biggest draw so far has been housing and hygiene services such as laundry and showers. Many of the people being helped are those who Larocque believes would have struggled in a more traditional appointment-based program. "These people show up each day because it's somewhere they know is safe and close by. Then, the providers are right there, able to help them."
Another reason the program is proving a success is that during the years of planning, the population the Community Care Center was intent on serving was very involved. The group conducted meetings to ask them what were their top needs and wants. In addition, Larocque says building relationships with leaders at each organization has also been a big part of the success. "As an example, for the last three years, a vulnerability index team has met each week to help work around the most vulnerable people who need really coordinated care – this type of collaboration has really made it work," he adds.
While the center has been a success, it has also made it clear that Olympia still lacks certain services. Larocque shares that normally, if you look around the building, there are rarely more than 85 people. But with the cooler temperatures, center coordinators are concerned how they would handle the 200-some guests that come through the center throughout the day – if they choose to stay all day.
"It's made it very apparent how important it is to have space for a designated space for a warming center – which the Community Care Center is not," Larocque said. "We need to maintain our operations as a social service hub, designed to meet people where they are and help them to access and thrive in the services that they want to access."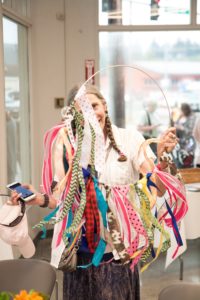 Funding for a warming center was approved by the City of Olympia, but funds from surrounding cities and Thurston County were not approved. "We have been working very cooperatively with the city to come up with solutions and options," Larocque added.
Since opening, the center's services have already begun to expand. Behavioral Health Resources just hired their first full-time employee for the Providence Community Care Center. And, the center is working on partnerships with other nonprofits to offer more services, including employment counseling.
How You Can Help
Volunteers and donations are needed on an on-going basis. If you have a medical background, you can let the Olympia Free Clinic know you are interested in volunteering at the center. Non-medical volunteers can contact SideWalk or Interfaith Works.
If you would like to donate, you can make a monetary donation through the Providence website. In-kind donations are also needed, especially coffee, sugar and creamer. A list of needs can be found on the Interfaith Works website.
For more information, visit the Providence Community Care Center website.
TJ LaRocque participated in an interview on Thurston Community Media's Mission Non-Profit series with host Andrea Capere. This article is part of a partnership series with TCMedia to showcase non-profit organizations in our community together.