The Black Hills High School volleyball team has a tradition where after the conclusion of each match, they gather together in a circle on the court and go one-by-one dishing out compliments to teammates.
"We just give each other kudos," senior Amber Fowler said. "It's usually something simple, like you tell a player they had a good block."

This season, however, the appreciations are taking quite a bit longer – there's just too much praise to go around.
"We actually had to shorten it up," Fowler said with a laugh. "It was taking too long."
The district in which the Wolves compete is easily regarded as the platinum standard among the 2A classification. Three teams advanced to the state tournament last year from it – all three placed among the top five, including state champion Tumwater and runner-up Woodland.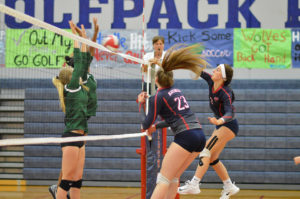 Behind Fowler, senior libero Emma Goodman and junior middles Maisy Williams and Hannah Rongen, Black Hills is more than ready to re-join the group of upper echelon teams this season. The Wolves made 12 trips to the state tournament during their first 15 years, but last advanced in 2011.
"We've always had the mentality that we are going to go to state," Goodman said, "but we didn't really work for it. Now we're going to go to state and we're going to work for it. We're going to earn it instead of just expecting someone to hand it to us. We're all in, all the time."
Adding to the motivation is the fact that just down the road, cross-town rival Tumwater High School hoisted its second state championship over the last three seasons last year – a feat not lost on the Wolves.
"That's nothing but motivation," Williams said. "We are so fortunate to be blessed with the players we have and blessed with the competition we have in this conference because it's constant motivation. Our goal is to always get better and obviously to beat Tumwater. There's so much talent here."
Williams and Goodman were both named first-team all-2A Evergreen Conference last season, making Black Hills the only school in the EvCo with multiple returning first-team players.
The 6-foot Williams will once again be an explosive offensive attacker for the Wolves, while Goodman serves as the team's defensive stopper.
"Teams chip on her and chip on her and they swing on her and she is all over the place. She's unstoppable on defense," said third-year coach Jessica Prigge about Goodman. "I depend on her to run the court, and she does that. She's a team captain for a reason."
Goodman, however, is hardly alone in shouldering the leadership responsibilities as she shares that valuable role with Fowler, who plays much bigger than her 5-8 height indicates.
"Amber is game 100 percent of the time," Prigge said. "She's really become our all-around go-to player this season. Offensively, defensively, we need her all over the floor. Plus, her leadership has really shined through this year."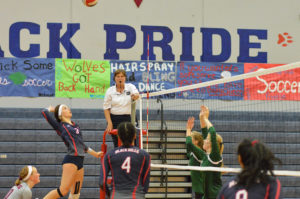 Add Rongen, an honorable mention last year as a sophomore, into the mix and the Wolves feature one of the most athletic and intimidating front rows around. At 5-11, Rongen has always had the height and length to be successful in the sport, but, according to Prigge, it's her newfound confidence on the court that has made her extremely dangerous this season.
"Last club season it clicked for me," Rongen said. "I started getting kills every game and before I would only get a couple a game. I think I just started working harder and wanting it more."
In addition to the increase in confidence from several players, all four admit one of the biggest changes for the better this season is the team's approach to being a team.
"I feel we click a lot better than past years and we're trying to build the program back up," Goodman said. "We're super goofy. We're constantly telling jokes. If someone makes a mistake, someone will make a joke about right there. It can definitely get intense playing. A lot of the girls are on edge. So it helps everyone relax."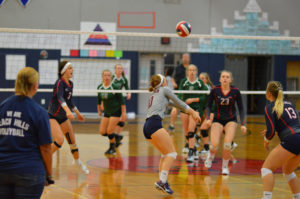 "Practice is so intense because everyone is so into it," Williams said. "The intensity is really high this year. Everyone is working. It is so much fun playing with them."
The Wolves will play their first home match on October 3 against Centralia, while the first of two showdowns with Tumwater will be held on October 10.
"This is my third year here and this group has really bought in and fights for it. They want it," Prigge said. "They understand my expectations and they know what they want. They want to re-establish the winning tradition this program had. We're capable of that and these girls know it."