The offices of Around the Circle Midwifery are tucked off Pacific Avenue in a beautifully renovated home that was built in 1909. Connected by a full kitchen is the completely new and renovated Birth House. The Birth House features two private birthing suites that maintain the comfortable and cozy feeling of the adjacent home.
Around the Circle Midwifery and the Birth House have been providing an alternative to hospital-based births since 2000. The Birth House is nationally accredited by the CABC and was recently awarded the Breastfeeding Friendly Washington Gold recognition from the Washington State Department of Health. Constance Frey, licensed midwife and director of The Birth House, is proud to be recognized for what is simply standard practice at The Birth House. "This breastfeeding initiative has been dovetailed with Governor Inslee's initiative to improve the overall health of children in Washington State," explains Frey. "Breastfeeding is a huge component of giving children the best start," she adds. You can learn more information on this award in this full story.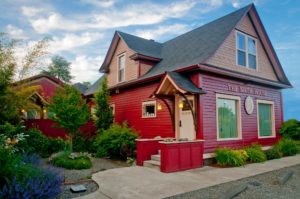 The Birth House provides a free consultation to those interested in exploring a community-based birth. Mothers who are looking for a more intimate relationship with their care provider may find the Birth House is a perfect fit. In a hospital-based birth, a long labor can result in multiple shift changes. Mothers can go through two to three nurses during extended labor. At the Birth House your midwife will be with you the entire time. This relationship is very appealing to clients.
The constant presence of the birth team, which includes a midwife and a birth assistant, provides a feeling of emotional safety which results in less stalled labors. "Births tend to go more quickly when the mother is relaxed and in a comfortable environment," explains Frey. A community-based birth provides both freedom of choice and low intervention. Frey and the other three licensed midwives at Around the Circle Midwifery put the safety of the mother and newborns first. Providence St. Peter Hospital is less than three minutes away in the unlikely case a transfer is needed. With over 700 births they have transferred only about 10% of patients. While it is rare to have emergency transfers, the midwives have no hesitation when it is appropriate for delivery or infants who need observation in a hospital setting.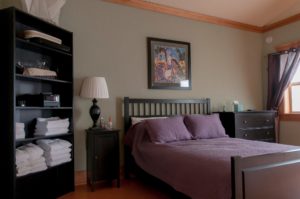 Most clients who give birth at The Birth House will return home with their new family member four to six hours after their baby arrives. This is a huge cost savings to both the family and the larger community. It is important to note that Around the Circle Midwifery has a "blind insurance policy." This means that no client is turned away based on his or her insurance coverage. 50% of the clients of Around the Circle Midwifery are covered by Medicaid.
A community-based birth can be as much as two-thirds less expensive than a hospital-based birth. From a community health standpoint this means that health care dollars can be directed to those who need it most. Women with low risk pregnancies are more likely to deliver a healthy baby without a C-section at a birth center than at a hospital, according to a study in the Journal of Midwifery and Women's Health.
The staff at Around the Circle Midwifery assists DSHS patients to secure safe housing for their families in the days following the birth of their child. For Constance Frey and the other midwives caring for clients and the community is what brings joy to their day. "Working as a midwife is a lifestyle and part of our spiritual practice," Frey shares. The relationship between mother and midwife is what drives Frey to get up at 2:00 a.m. and come to work. She explains that as a mother of two grown children, she now connects to the grandmothers that are often present at the birth of their grandchildren. "I used to cry when the mothers cried, but now I find myself crying with the grandmothers," she shares with a smile.
Around the Circle Midwifery and The Birth House provide services to approximately 12-15 women a month. I asked Frey if the birth of a child ever becomes routine, and her reply was simply, "Every birth is a miracle; it never gets old." Frey was a medical-school-bound student when she had her first child with a midwife. She fell in love with the practice and eventually went to midwifery school at what is now a program within Bastyr University.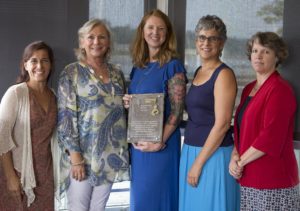 The Birth House serves the communities of Thurston, Lewis and Mason Counties along with Grays Harbor. Frey loves the community support that they have received in the area and hopes to continue addressing the needs of families. As medical costs increase, the benefits of using a birth center for low-risk pregnancies becomes a real, practical choice for families throughout the South Sound. And, Frey and her fellow midwives ensure that it's not only an economical choice, but a joyful and meaningful one as well.
For more information visit their website at http://www.aroundthecirclemidwifery.com