Submitted by the Olympia Symphony Orchestra
The Olympia Symphony Orchestra is pleased to open its celebratory 65th Anniversary Season with a concert titled "Opening Statements," on Sunday, October 8, 7:00 p.m. at The Washington Center for the Performing Arts. This season marks a milestone for the OSO, as they simultaneously celebrate their 65th year of performing classical symphonic masterpieces for the South Sound community and Maestro Huw Edwards' 15th year conducting this ensemble from the podium. Both are proud landmarks for this professional orchestra, and this season's title, "Thinking Big," illustrates the exuberance, pride, and momentum the OSO feels when looking back on a 65 year legacy, while looking forward to the exciting and enduring road ahead.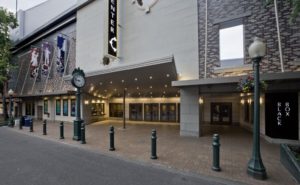 The concert will open with Joseph Curiale's Awakening. Cast in three short movements (Compassion – Forgiveness – Joy) it traces a path of emotional and spiritual awakening not unlike one that the composer describes having personally experienced. Born in 1955, Curiale has turned his spiritual awakening into action. Currently living in Singapore, he spends much of his time doing charitable work. The composer's comments about his own spiritual awakening give context to the seeming simplicity of the music:
"The simple things seem to have the greatest power yet are so easy to miss. It is up to us to be more sensitive. However, it seems the more I learn the less I feel I understand about the meaning of life and what this world is all about…why God would allow such misery and suffering. But through all the ups and downs of this life, for me there is one undeniable truth and that is music…the purest form of love that I have ever known. And maybe that's all I need to know."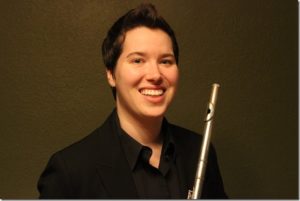 Following Awakening, the Olympia Symphony's own Mary Jensen will take the stage as featured soloist, performing Carl Nielsen's Concerto for Flute and Orchestra. Ms. Jensen holds the position of Principal Flutist of Olympia Symphony, and will step away from that chair and into the spotlight of center stage for this two-movement work.  In addition to her position with the OSO, Mary is also Principal Flutist with Symphony Tacoma (formerly Tacoma Symphony Orchestra), Tacoma City Ballet, and the Lake Chelan Bach Festival Orchestra, where she is also Artist-in-Residence. Mary maintains a private studio in Tacoma, where she also is a flute and chamber music coach for the Tacoma Youth Symphony Association and is on the faculty of the Evergreen Music Festival. The Olympia Symphony is proud to showcase her brilliant musicianship as their featured guest artist.
The season opening concert will conclude with a performance of Tchaikovsky's Symphony No. 4, a pivotal work for the Russian composer. He began composing the work in 1877, just prior to his doomed marriage to his wife Antonina. By the time he completed the work in 1878, his marriage was over, and he suffered two health crises related to stresses caused partly by his sexual orientation and partly because of the existential threat that he believed married life represented for his creativity. Unlike Curiale's Awakening, which mimics the composers experience in auditory parallelism, Tchaikovsky's celebratory Fourth Symphony contradicts the turmoil experienced by the composer during its composition.
Taking the podium to conduct this varied program will be guest conductor, Jeffrey Bell-Hanson. Dr. Bell-Hanson just finished his 15th season as Director of Orchestral Activities at Pacific Lutheran University, where he is Professor of Music, and is currently on Sabbatical leave. He brings to the podium a dedication not only to high standards, but also to performances informed by scholarship. His career-long concern for the orchestra as a model of community has led him to believe deeply in its ability to teach a sense of shared values. The Olympia Symphony is honored to have the privilege of performing under his direction. OSO Music Director and Conductor Huw Edwards is serving as visiting professor at Pacific Lutheran University this academic year, where he will conduct the University Symphony in Dr. Bell-Hanson's absence. Maestro Edwards will return to the OSO podium to conduct the remaining concerts of the 2017-18 65th Anniversary Season.
For more information on Olympia Symphony concerts and upcoming events, or to purchase tickets, please visit the Olympia Symphony Orchestra website.