Laurel Behnke has always had a passion for animals. She has spent most of her life channeling that passion into helping other people keep their dogs happy and healthy, first as a groomer and technician for Steamboat Animal Hospital and then running her own grooming business, Laurel's Pet Grooming.
Laurel's opened in the summer of 1999, after Behnke, who had recently gone through a divorce, was struggling to make ends meet on just her salary. "It was a risk, but I kind of figured at that point I had nothing to lose," she says. She had the passion and, after spending twelve years working as a groomer for other organizations, the experience to make the risk pay off.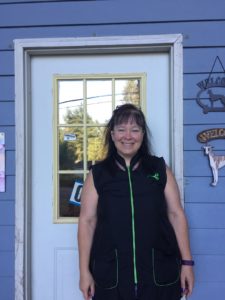 Behnke is dedicated to making the grooming process easy and comfortable for her customers. She knows some dogs can suffer from separation anxiety when they are away from their owners or can be nervous about being left in an unfamiliar place. She also knows that some pet owners worry about their pets being anxious, and dogs are good at reading their owners' emotions. "Some owners make their dogs nervous because they're anxious, so we try to reassure the owner of our process and what exactly is going to happen here so there are no surprises and no questions. That makes the owner more comfortable and will often make the dog more comfortable," she suggests.
Laurel's Pet Grooming offers is full-service grooming, which includes trimming the dog's toenails, cleaning their ears, providing preventative flea treatment and cleaning the dog's teeth, as well as a wash and a haircut. They offer several different kinds of shampoos, including medicated, whitening, and deep cleaning, depending on what the owner wants for their dog. They also groom cats. "Not every dog has to get the full service," Behnke says. "They sometimes have large dogs come in just for a wash."
Behnke also pays close attention to the needs of each specific dog and tailors the experience to make it as comfortable as possible. "Some dogs like a lot of talking a coddling, some dogs just want us to hurry up and get it over with. We have different tools to use on different dogs," explains Behnke. "Every dog is different, and we really try to gear it towards that dog."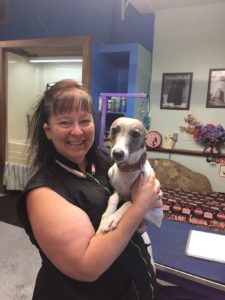 Laurel's Pet Grooming is open seven days a week, and with the help of two to three employees, they manage to groom an average of eight or nine dogs per day. But even with this intense schedule, Behnke finds time to spend with her own dogs and to compete in grooming competitions. All of her dogs are whippets, a medium-sized breed known for its racing ability, and with them she travels to training facilities and competitions to let them run. "We do field trials on the weekend, we go racing, we do agility, we do all kinds of things," she says.
Behnke also competes in grooming competitions, which involves grooming dogs in front of a set of judges. To do well in these competitions, it is necessary to know what to do with different coat types and lengths as well as how to handle dogs of different sizes and personalities. "Every year I go to our local Northwest Grooming [Show], and every year I place at least in the top three," she says.
When entering a grooming competition, she usually uses a client's dog or a rescue dog, depending on the type of competition she is entering. One type is called a Rescue Round-Up, and it involves each competitor being randomly assigned a dog from a local rescue organization. They are given two and a half hours to groom it in front of the judges. Often, these dogs begin the competitions with extremely dirty, matted fur and are much happier and healthier when the grooming is complete. Plus, being a part of this competition often leads to these dogs being adopted. "If anybody watching the competition—or one of [the competitors]—wants to adopt a dog, the coordinators are right there to help them," says Behnke.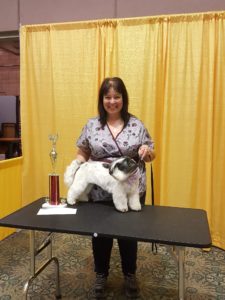 In March of 2017, Behnke won first place at the regional show and was invited to Pennsylvania to compete at the next level. Grooming competitions are often one event in a larger show or grooming exposition. When she attends one of these shows, Behnke goes not only to compete but also to learn. "I go every year to keep up on the latest products and techniques. There's always something new and great to use to help the dogs have a better experience," she says. There are trade shows, classes, lectures and demonstrations to attend, which cover, as she explains, "everything from the latest grooming techniques and styles to safety and health.
Laurel Behnke clearly loves animals. Working as a dog groomer allows her to put her passion into practice every day. But what she loves the most is getting to see other people with the same passion. "Honestly, my favorite thing is the human-animal bond," she says. She loves, as she suggests, "seeing how much the owners love their dogs. And how much the dogs love them back."
To make an appointment, call 360-493-2303, or send Behnke a message on Facebook. She is currently booking appointments a week in advance. For more information about Laurel's Pet Grooming, visit her website.