i.talia pizzeria on Olympia's Westside is known for fast, organic and delicious Italian eats. Operating under the same standard of quality and care we have come to expect from The Ramblin Restaurant Group, i.talia pizzeria is casual dining at its best.
For manager Lindsey Hennig, however, the mission to provide exemplary customer service extends far beyond the walls of the restaurant's kitchen.
"Lindsey is always working with the community to strengthen her relationship with local charities as well as the schools. She is truly an altruistic individual whom I feel lucky to call a friend and a coworker," shared owner, Adam Adrian.
Lindsey came to i.talia pizzeria an Evergreen grad, brimming with ideas and inspiration. Under her leadership, the restaurant's field trip program has continued to reach our community's youngest learners who, through hands-on practice, discover not only the valuable basics of the culinary arts but also where the ingredients come from and how they come together to form delicious, healthy meals. "It's chaos," laughed Lindsey, but that only excites her more.
Lindsey has a knack for seeing the potential in something and how it can grow and thrive and benefit, not just our local community, but the world around us as well.
"I see the field trip program expanding to reach older students," explained Lindsey, "Right now, we are really gaged towards early learners, preschool to kindergarten, but I think we can do more. Culinary arts is an awesome profession, and I want to build a program at i.talia that serves as the link, or a stepping stone, for students interested in this field."
In addition to hands-on learning, Lindsey has established Pages for Pizza, a local school program aimed at supporting students in their future quests and endeavors by emphasizing the importance of reading.
"About four years ago a regular came in," Lindsey explained. "She was a PTA mom who was looking for certificates to use as incentives to support an upcoming reading week at her school. She asked for five, but I thought, 'I think we can do more' and Adam agreed."
i.talia Pizzeria offered every student in the school who completed the reading challenge that week a free pizza.
"I'll never forget the first student who came in with his certificate and the pride on his face," said Lindsey. In this moment, Lindsey saw the potential in the program but also realized she was going to need help to craft it. So, she reached out to Adam's wife, local educator Amanda Adrian.
"Lindsey's commitment to her vision with Pages for Pizza has resulted in a program that is well-received and continues to grow," said Amanda. "New schools join each year and I hear enthusiastic, positive feedback from both teachers and parents in the schools where it's already up and running. Pages for Pizza is a success because of Lindsey's warmth and connection to others, as well as the fact that she's put a lot of work and thought into making it a quality program."
Pages for Pizza currently works with five schools in Thurston County and is hoping to add three new schools this coming year. Lindsey and Amanda have done all the leg work ahead of time, knowing how busy the school day can already be. Participating schools receive kits from Lindsey, complete with everything you need to kick off the program from posters, to letters home, to student reading logs.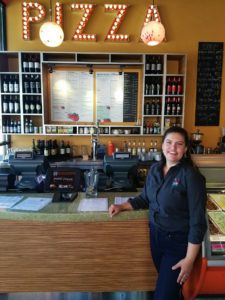 "Working with Lindsey is pretty much a dream," Amanda added. "She has strong vision, a tasteful aesthetic and always a positive outlook. The work she does, both with Pages for Pizza and at our restaurants, is nothing less than top notch."
"I actually wanted to be a teacher," admitted Lindsey. "Working with the schools now, it's like I get to have my cake and eat it, too."
You may wonder how Lindsey manages to run a successful pizzeria and still find time to connect with our local students and schools.
"Honestly, the work can be incredibly hard. You almost have to be a little insane to thrive in the restaurant industry," joked Lindsey.
Lindsey credits the positive influence and support of her boss Adam as she works to extend the reach of i.talia into the community. "Adam is such a prevalent member of our community," shared Lindsey. "He is everywhere from GRuB to the Hands on Children's Museum. He has really shown me how to reach others that aren't as well off and given me the opportunity and tools to give back."
"He is the nicest person I know," she emphasized. "Period. The end."
Adam's mutual respect and appreciation is evident. "Lindsey is the go-to i.talia person. It is her passion and it shows. It has been so fun for me to work with someone as positive and fun as Lindsey, and she has taught me a ton over the years," Adam explained with a smile.
And it is clear, Lindsey's teaching has only just begun.
Armed with a voracious appetite for genuine connections and altruistic endeavors, Lindsey and her future with i.talia pizzeria's legacy are looking deliciously bright.
To find out more about i.talia pizzeria's field trip opportunities or how to get your school or classroom involved in Pages for Pizza, check them out online or in person.
i.talia pizzeria
Capitol Mall Promenade
2505 4th W, Suite 108, Olympia
360-754-3393