More than just a hobby, grilling is equal parts science, art, love and time. Like any passion, there are levels of appreciation and participation open to one and all.
If you, or someone you know, is ready to move beyond life as a BBQ spectator, there are plenty of options across our region. One of the best, and most comprehensive places to start is the free South Sound BBQ Festival at Lacey's Huntamer Park on Saturday, July 8.
The Festival unites vendors, chefs, pros and backyard Joes to celebrate meat, smoke and spice. Stock up on equipment, rubs, sauces, cookbooks and more from 11:00 a.m. until 6:00 p.m. (then hit the beer garden until 8:00 p.m.). Fill your belly with samples, food truck offerings or even compete in the chicken wing eating contest. But don't miss the high point of the day: the Pacific Northwest BBQ Association (PNWBA) professional cook-off.
This is a registration-required competition featuring brisket, pulled pork, chicken and pork ribs open to all members of the PNWBA. This year's slots are full, however it's never too early to start planning your  BBQ domination for next year. Membership is only $25 and can be completed online.
Chris Kelly, a judge, competitor and third-year board member with the group explains the group's history and how they certify BBQ events:
"We are the second oldest BBQ sanctioning body in the United States and this is the first year the PNWBA has been involved with the South Sound BBQ Festival. PNWBA provides event sanctioning to events such as the Festival to ensure that the contest portion of the event will be run in a professional manner with a strict rule set that must be adhered to by both competitors and judges."
"Competitors will be judged by a panel of certified BBQ judges, all which have undergone training specifically for this task. Winners of events which meet certain criteria, such as being sanctioned by a recognized BBQ sanctioning body like the PNWBA, will earn the right to compete at prestigious national events including the American Royal World Series of BBQ, one of the largest BBQ competitions around, and also the Jack Daniels World Invitational BBQ contest, held each October at the distillery in Lynchburg, TN."
But even with the opportunity to continue on the BBQ circuit, Kelly is quick to note that the PNWBA members come from all walks of life including professional chefs to backyard BBQ aficionados. In addition to training judges, the association offers classes to help those new to the circuit learn the tricks and tips for BBQ competition. Novice teams are also placed next to veteran teams to ensure there are experienced PNWBA members nearby if questions arise during a competition. "Teaching is the way we preserve the craft and ensure it carries on for many generations," says Kelly.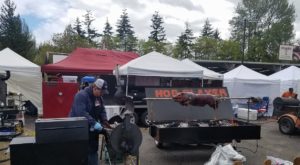 The only requirement to join is a love of grilling and desire to learn. And this openness is reflected in their membership. "Our oldest [member] has got to be Ken 'Sarge' Peach. He is one of the original members of the PNWBA who still actively cooks and competes to this day, I believe he is 88 years young. While not an official member, Joe Minderman has been a staple in the competition circuit since he was just a few months old. He's just over 2 years old now," laughs Kelly.
Whether you choose gas or charcoal, meat or fish, the PNWBA supports its 250+ members in over a dozen competitive events annually from British Columbia to Montana. Winning not only provides bragging rights, but can make a world of difference to food industry professionals.
"A competitor who is a chef, restaurateur or has their own line of products, with a win, or multiple wins, under their belt gets name recognition. And who doesn't love proudly showing off those trophies and ribbons in their restaurant?" says Kelly.
Celebrity chef Bobby Flay once said, "I love the culture of grilling. It creates an atmosphere that is festive but casual. Grilling takes the formality out of entertaining – everyone wants to get involved."
Requiring nothing more than fire, food and time, anyone can participate and become a grill master. And, it's not so bad for the rest of us, either. We get to eat the practice runs and less-than-perfect attempts. It's a tough job, but someone's got to do it.
For more information follow the PNWBA and South Sound BBQ Festival on Facebook for recipes and updates.
Sponsored