Submitted by Olympia Food Co-op
Many years ago, the Staff Collective came to consensus that the Olympia Food Co-op could further our mission statement by providing resources for folks to cultivate their own food. Over the years, our Garden Department has grown, and as a way to encourage gardens, a Bird and Butterfly Garden at our Eastside location was developed. This Working Member-driven project has become an enjoyable spot to eat, visit folks, or maybe hang with your young ones – exploring the garden filled with plants, flowers, rocks, sticks, and… butterflies!
Our next big garden project was the design, development, and grand opening of the Westside Garden Center in 2015. This has become a neighborhood treasure – a fun place to visit, packed with high quality, well-researched garden goodies – tools and soil – seeds and starts – pest and soil solutions – canning and fermenting supplies –bird seed and feeders – the list goes on…
As with all of our departments, we like to support as many Local Vendors as possible. Here are a few featured in our garden departments (found both Eastside and Westside Co-ops).
Rising River Farm
This organic farm in Rochester provides us with a wide range of plant starts, both popular and unique varieties.  One of their best-loved items are the Sungold tomato plants, which produce an abundance of bright orange, delicious cherry tomatoes all summer, lingering into the cold and cloudy fall days.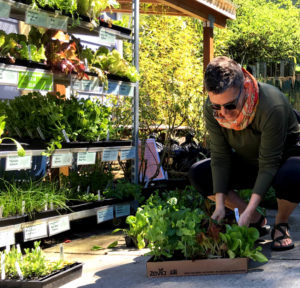 Spring Creek Farm
This small, family-run nursery in Rochester grows a wide range of plants without the use of synthetic pesticides or fertilizers.  This is a great source for herb starts, both culinary and medicinal. They also have a many different vegetable starts, from classics to unique flavors.  Their beautiful perennials provide a low maintenance source of food and medicine along with dreamy landscaping.
Wiser Worm Farm
This Olympia farm produces safe and sustainable soil conditioners through the practice of vermicomposting. They use Red Wriggler worms and feed them organic matter. We carry the castings, and their excellent Worm Tea. These products condition the soil by adding beneficial microbes and nutrients to improve resistance to disease and fungi .  Many of our regular customers swear by it.
Black Lake Organics
This Olympia vendor offers high quality organic fertilizer mixes. Each product is tailored to fit specific gardens and plants, encouraging healthy soil and ecosystems. Two products highly recommended are the Bloom No. 2 (for soil in our rainy climate), and the Bloom No. 6 (for plants with big flowers or fruits, such as rhododendrons, azaleas, and blueberries). Check out their garden information leaflets
Some great resources for gardening questions are the Seattle Tilth's Resource Page, and Western State University's  Gardening in Washington State.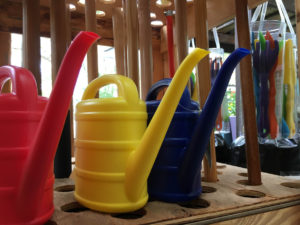 And, now for a step inside of the Eastside Olympia Food Co-op Bird and Butterfly garden!
First there was a vision. Then a design.  Landscape installation was next. Then Sarika found out about it. Excited about what was happening, and wanting to finish the landscape and rock wall installation, she offered her services as a Working Member.  Since becoming a Collective Staff Member, Sarika has partnered with local groups and businesses to develop the project from a simple garden into an excellent demonstration of how folks can utilize the environment around them to reduce their carbon footprint, all the while, enticing birds and butterflies to hang out.
There have been many goals and accomplishments over the years, and here are few of the highlights:
saving endangered & at-risk species by providing habitat
providing example of low-impact carbon foot print
creating a space where people and local ecology feel invited and welcome to be together
empowering youth and providing people with functional life skills
making an example of what an optimized food security plan can look like
using fungi to limit chemical runoff from the parking lot into the Puget Sound
Check out the summer edition of our quarterly Table magazine, where there is an interview with Sarika, highlighting her excellent, ground breaking, forward-thinking, and environmentally-aware project.
Sarika is at the Eastside garden every Wednesday at 1:30 p.m., with a Worker Member crew. She welcomes all to see what folks are up to, "The more the merrier! If you have a little time after lunch, come by to tour the garden, and get your hands dirty with us!"
We at the Olympia Food Co-op are celebrating our 40 year anniversary this year! Since the beginning of opening our store front in 1977, we have found many ways to help our Local Vendors – and mostly it is because of you, our membership! With our low mark-ups, every time you purchase their products from us, you know they are getting most of the sale.  We have two locations, and both stores are open daily, 8:00 a.m. – 9:00 p.m.