Landing a date with Sassy Seafood owners Libie Cain and Teresa Reeves is easier said than done. It's not that they wouldn't be delighted to sit a moment together and catch up on the business news. They would. But, with demanding fishing schedules, erratic weather, growing children (all three are straight A students), business maintenance and life in general, time is at a premium.
Their Boat to Belly (now an officially trademarked name) business keeps Cain and Reeves on the move. It's all encompassing. As Libie points out, "The thing that is really important is that we are two women [in a world comprised primarily of older men]. We harvest, transport, process and market our products." They can be proud of how they are making their mark and contribution.
Each family owns a boat, The Betty Lee III and The Mistress. Husbands Shane Reeves and Chris Cain have very important roles as Captain of each harvest vessel. Libie is a commercial fishing deckhand and handles the production side of Sassy Seafood while Teresa manages a heavy farmers' market schedule, employees and the online store. Both ladies share the hectic and never ending load of office duties.
The mighty duo recently returned from Astoria where the Western Fishboat Owners Association had its annual meeting. Libie is a director and Teresa is an officer, both elected positions, within the association. The rest of the seats are held by men, not a surprise in this industry. Their enthusiasm and passion for keeping their industry sustainable, science-based and viable is evident. The Association's newly launched "Round-up" campaign supports the American Fisherman's Research Foundation, a nonprofit organization that "aids, encourages, promotes and supports science and education in the field of albacore tuna and related fish species." When customers round-up their bill to the next dollar, the extra goes to the AFRF.
What's new with Sassy Seafood this spring? To start, the original tuna is now packed with natural sea salt, representing about 1/8 of a teaspoon. Both Libie and Teresa commented on how the sea salt enhanced the texture of the fish to a new level of deliciousness. Taste for yourself – I did, and it's really true.
Did you know that all of Sassy Seafood's fish is troll caught, dolphin and turtle safe and is packed in BPA free cans? It also has low to no mercury levels. Consumers can truly feel good about eating this gourmet albacore tuna which is certified wild pacific and deemed sustainable by the Marine Stewardship Council.
Look for an exciting unveiling a little later this year of a new flavor coming to the Sassy Seafood repertoire. The luscious pin-up beauties will welcome a new friend to the line-up. Take a look at the pin-up inspired characters, Betty Lee III and Mistress, named after the boats, who grace the can of original tuna. Check out the Sassy Seafood website to meet the other classic (sometimes sexy) ladies. We'll have to wait to see what will be added to the new tuna flavor this season. Currently available are lemon, dill, jalapeño, smoked and smoked with jalapeno. Whatever the flavor may be, I it will be the perfect addition to the summer table or the gift giving season ahead.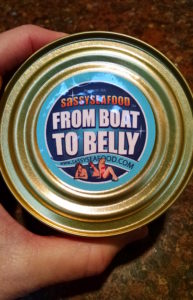 Sassy Seafood maintains the energy of innovation and collaboration. The owners are continuously seeking out other businesses for joint ventures. Have you tried their B's Rub spice packet? Another project underway is recipe cards. People are always asking for new ways to serve the albacore and the ladies have listened. The recipe cards aren't available just yet, but Libie and Teresa describe a few recipes here, all three with flexible amounts making them easy to remember.
Party Pizza
This is a family favorite and go-to recipe for the Cain family.
Select your pizza dough or make your own. The San Francisco Street Bakery makes wheat and white dough for you to cook at home. You could also get a ready-made crust or dough from a local grocery store.
Start by rolling or stretching your dought. Libie likes to add a garlic aioli on top but shares that barbeque sauce is great, too. If you are out of sauce, simply brush dough with olive oil. Top with smoked jalapeño tuna pieces, arugula, caramelized onions and plenty of garlic. Sprinkle with cheese. Bake or grill. Libie notes that grilling adds a desirable rustic quality. Dinner's done – that was easy.
Fabulous Fennel Salad
Chop fresh fennel bulbs. Add in chopped red cabbage and chopped Brussels sprouts and kale. Grate in the zest of one lemon. Squeeze in the juice of one lemon. Toss with avocado oil or olive oil. Salt and pepper to taste. Don't forget to add a healthy dose of pressed garlic. Use original or lemon tuna in this salad. This salad is fast and fresh!
Magnificent Mascarpone Dip
Mix a package of mascarpone (or cream cheese) with a can of smoked albacore. Press in 4-5 garlic cloves and a dollop of sour cream and/or mayonnaise. Blend. Top with chives or green onions and parmesan cheese. Scoop into an oven proof dish. Bake until bubbly. Serve with raw vegetables, crackers or bread. Word has it that this dip disappears very quickly.
Sassy Seafood can be found and ordered on their website. Through the season, they'll have a stand every Tuesday starting the second week of May at the West Olympia Farmers Market. Find Sassy Seafood at Olympia's Bay Mercantile or the Union City Market and in Shelton at the new Sweet Earth Farm Store. They can also be found east of the mountains at Michael's Market and Bistro.
Sassy Seafood products are also available at the Seabrook Market and Harstine Island Farmers Market. Catch treasures from the sea from our regional micro-cannery.
Eat Well – Be Well
Sponsored