Outside a putter, Jordan Baird had not picked up a golf club in four days.
Usually, this would simply be seen as an annoyance to Baird, who admits his life centers around the sport, but this time there may have been ramifications for not being able to practice his swing.
He was days away from competing in the 2016 O Bee Junior Open at Tumwater Valley Golf Course. Trapped in a Spokane hotel during a Future Business Leaders of America (FBLA) conference, Baird nervously wondered how this would affect his performance.
Eighteen holes later, he got his answer in the form of a big, shiny trophy.
Warm-up swings or not, Baird knows this course.
The Tumwater High School senior will look to defend his O Bee Junior Open championship on April 23. The event comes on the heels of the beginning of his final season as a Thunderbird where he looks to make a return trip to the Class 2A state tournament.
Last year, Baird teamed up with Dylan Christoffer to help Tumwater finish 10th overall as a team despite only having two golfers compete at the state tournament in Richland.
It's been nearly 13 years since Baird was first introduced to golf, however, he didn't participate in a tournament until after he had six years of experience under his belt.
Golf didn't start out as a competition for Baird. It wasn't about perfecting his drive or learning to hit out of the rough in an attempt to save par. Medals and plaques didn't even enter into the conversation.
Golf was important because it was about spending time playing with his father.
"Everyone wants to win tournaments," Baird said, "but growing up I fell in love with golf because it was about being with my dad. He never pushed me towards competing. It was just about being together."
Baird eventually played in his first tournament at age 11. He was young, but certainly far older than other kids who also began playing at 4.
"I actually think that helped a lot," Baird said about holding off on playing in tournaments. "There was no pressure. I didn't get frustrated playing or burnt out (by playing in tournaments at a young age). It was just playing golf to play golf."
Baird anticipates playing in 10-15 tournaments this year, but places the O Bee Junior Open high among the lists of his favorites.
He views Tumwater Valley as his home course, a place he not only plays at, but also works at.
"Initially, I got a job there because I could get free golf," Baird said with a laugh, "but I gradually started loving every aspect of the game because I was working there."
During Baird's trip to Spokane last year, when he wasn't busy with FBLA activities, he usually could be found practicing his putting in the hotel hallway as that was the only club he brought with him – which is probably for the best given how his other items turned out.
Baird's luggage, which contained his laptop housing his state FBLA presentation, was one of the first items loaded onto the van heading east. By the time Baird and his teammates reached their destination, his laptop was no longer in working order, crumbled beneath an avalanche of carry-ons. Unable to salvage the data, Baird was required to present his state project all from memory.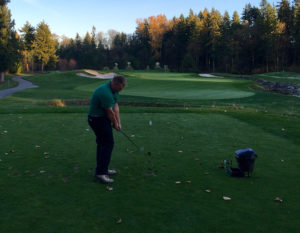 Fittingly, his topic was on how to make a better golf ball.
"I actually told the panel before I started what had happened," Baird said. "And then just started in with my presentation."
Baird's enthusiasm for the topic shined through, helping him secure a second place finish in state for his project.
Bright and early the next morning, the trip home began. He arrived at Tumwater Valley an hour prior to teeing off for the O Bee Junior Open. It was more than enough time as Bird shot a tournament-best 72.
"I guess I didn't have enough time to overthink it with everything that was going on" Baird said. "I try to go out there and play calm, sink putts and not worry too much about the score."
Registration is open for the O Bee Junior Open tournament. All youth who register before April 9 will receive a custom logoed Titleist Sack Pack. Titleist will also be on site giving away sleeves of nearly every type of Titleist ball, including ProV1's.
Age divisions for both boys and girls include 8-11 years old, 12-14 and 15-18. The top three male and female finishers in each divisions will receive awards.
Register in the Pro Shop or download the registration form from the Tumwater Valley Golf Club website. All registered players will be personally contacted with tee times and pairings for the event. For more information, stop by the Tumwater Valley Golf Club Pro Shop, call (360) 943-9500, or visit http://www.tumwatervalleygc.com.