A garage is probably the last place you would expect to find a boutique winery. But that is exactly where Scatter Creek Winery started twelve years ago. You would never know it now, walking into its location in historic downtown Tenino.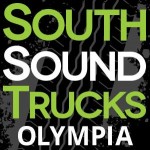 Owners, Andrea and Terril Keary, greet me inside and invite me to sit on the swanky red couch their regular customers know and love. When I ask how the winery got started, Andrea says that in their twenty-six years of marriage, it has just always been something Terril did. As a full-time state employee, he made beer and wine as more of a hobby than anything else, giving the bottles as presents to co-workers and family. Many of them kept saying to do more with it, but Andrea says it stayed a pipe dream. "It was a great idea, and we left it at that."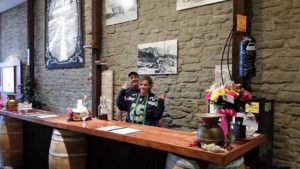 Fast forward a couple years when Terril's hobby had grown into something much more. With the urging of his great aunt and a small inheritance from her, the couple was able to start their business, but they were going to have to make a choice. "When the liquor control board member came in, she said to us 'Do you want to be a winery or a brewery?'  and Terril said, 'Well, we want to do both,'" Andrea recalls. Unfortunately, at the time you could not do both on the same premises. With Washington wine booming, it was obvious which way to go. "It made the most sense at the time to go into wine versus the beer because micro breweries weren't hot like they are now."
With just their two-car garage to operate from, Andrea and Terril started to build Scatter Creek Winery. Open only one weekend a month in not a typical location, the start-up was not an easy ride. Andrea remembers being really embarrassed in the beginning, worrying about how they would be perceived. At the time, there were not many others like them. "But we stayed true to who we are, and we still do today. I'd tell you when you'd come in the door the first time, 'Close your eyes, get to know us, drink our wine. If we're meant to grow we'll grow.' Those words are absolutely burned in my heart," Andrea explains.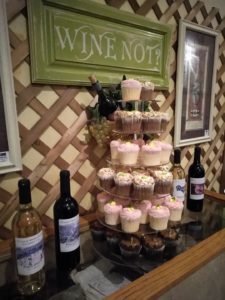 And grow they did. Traveling to local festivals and sharing their wine in the community proved to be successful tactics. After seven years in the garage, they moved into a new space in downtown Tenino. Andrea credits their amazing customers who stuck with them. "Word of mouth is how Scatter Creek was built," she explains. "We've been super blessed with the people that have enjoyed our wines and loved us over the years. We are not up in Tacoma and Seattle; we are not all over the world. We are truly still a 'ma and pa' shop, but we've grown with baby steps."
What has not changed is Andrea and Terril's philosophy on the type of wine and experience they want to offer their customers. "He wanted to produce a quality wine, but for the blue collar budget because we are surrounded by a blue collar area. And, we're no different than anyone else," Andrea says. They would rather have people be able to come back more often or buy two bottles of their wine than only be able to stop in occasionally. That's ultimately what they love about their business. "I don't sell wine; I sell the experience," says Terril. "The wine brought you here, the experience brings you back. I feel like this is our house, and everybody comes to us to have fun."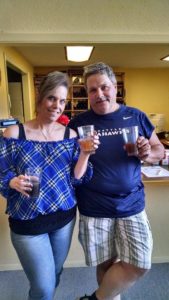 With a highly stressful career, Terril uses winemaking as an outlet to curb stress and relax. "I like making smiles. I like watching my craft come out here, watching people smell it and taste it and then the eyebrows go 'wow'," he smiles. Aside from the traditional favorites Terril likes to put his own spin on things. Some of his best known creations include the Peach Breeze Chardonnay, which was surprisingly not sweet, and KoKo Indulgence, a chocolate port I am excited to try next.
Not a wine drinker? Andrea and Terril have served other people's beers for years to satisfy all customers. Wine drinkers are often seasonal or only one-half of a couple will want to drink wine. However, they want everyone to enjoy their experience. And, Terril has not given up on his brewery dream either. Just recently the pair heard you can now brew beer on the same property as a winery.
With an LLC already in place, and a great location, Scatter Creek Winery and Brewing will soon become a reality, but it will be up to the customers to help it succeed. "This is the birth of a brewery. We don't want to take from the winery to make it happen. It has to grow itself, Terril explains. Andrea and Terril are already offering pre-sale memberships to their Grapes and Grains Club, which will allow their guests to help make this dream come true.
"I want to make something that people have been waiting for, but they don't make on their own already," he tells me. From a vanilla bourbon barrel porter to a key lime IPA, his ideas are endless. And, it's just a short drive to Tenino to experience Scatter Creek Brewing. There are currently no plans to bottle or can their beers. Instead they will offer growlers to go, tasting flights and pints. "You want my beer, you gotta come here. That's my saying," says Terril. Andrea adds, "We hope we're going to give you more reasons to come to little ol' Tenino. The brewing is the next step."
Scatter Creel Winery and Brewing
237 Sussex Ave. W. in Tenino
360-264-WINE (9463)