Austen Daisa was a rookie, a first timer throwing the shot put.
So, expectations last year were simply to just get better as he turned out for track at Black Hills High School. No one expected Daisa, who had given up baseball for track, to win. But he did.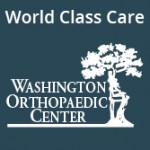 With a gritty determination, Daisa improved by over 12 feet and finished second at the 2A state meet. Not bad for a rookie.
"He was very raw and he had a lot to learn," Black Hills coach Brad Dudley said. "He listens. He's attentive and has the desire and right attitude. He definitely has the whole package – great kid, great attitude, great spirit."
While Daisa knew nothing about throwing the shot put, he did have the strength and size to make it work. He's 6-foot-2, 230 pounds and can bench press 230 pounds.
"Having the physical ability and the strength put him in a good place to start," Dudley said. "But he became a student of the event. He just kept improving. He kept fine tuning whatever he was doing and he was doing it better."
Every time he improved his technique he'd throw farther.
Eventually, Daisa ended up throwing 50 feet, 10 inches. His first throw of the season went 38 feet, hardly a meet winning toss. As Daisa progressed, as his throws went farther and farther, one thing interesting happened. He didn't grow content. He didn't let up in practice. He remained driven.
Now, with a new season started, Daisa has a new goal. He hopes to throw over 60 feet.
"As the year goes along, we'll see how obtainable that is," Dudley said. "It becomes harder to improve, but I think he wants to be the best thrower in the local area, 2A and Washington."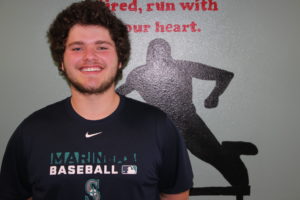 "He really drives. He's hungry to be better," Dudley said. "That is why he improved all the time. He didn't improve four, five feet down the line and say, okay this is where I'm at. He kept going and kept going and kept going. It's really unheard of for a thrower to keep improving."
Picking up the shot put and putting aside his baseball glove wasn't easy. Not at first.
"I've always been a huge baseball fan," Daisa said at a recent track practice. "I've been playing baseball since I was 5."
In high school, he started as a designated hitter as a freshman. Then his sophomore year there was a coaching change and Daisa, encouraged by the invitation of the track coach, decided to give track a try. He has no regrets about the switch.
Daisa didn't take long to adapt. He improved with every meet except for the state meet.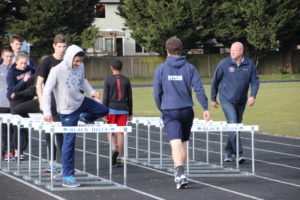 "It was the wrong time to go backward," Daisa said. "I just had never been there before and I didn't warm up quite the way I had in every other meet. I was nervous and didn't know quite what to expect."
Daisa wasn't the only rookie sensation last year for the Wolves.
Jordan Claridge wowed his coaches in the javelin last year, throwing 166 feet to reach state as a freshman.
"I was thinking baseball coming into my freshman year," Claridge said. "But then I wanted to try track out. I was good at it in middle school so I thought I'd try it my freshman year."
His success told Claridge he had made the right choice.
"I love it," he said.
Kyler Nygren, now a senior, ended up going 21 feet, 10 inches in the long jump, just two inches short of a school record. His goal is to break the 18-year-old school record and to earn a state title this year.
What makes Nygren's accomplishments so impressive is he's never the tallest guy in the event.
"I guess I've just got powerful legs and I'm fast," Nygren said. Speed and strength are his plusses.
"Last year, I went to a meet and just jumped really far, 2 feet farther than my PR," Nygren said. "All of a sudden, I just kept getting better and better."
Pearse Popchock had another too-good-to-be-true season last year as a freshman. Popchock, again one of the smallest competitors in his event, ruled the 800. In his first meet, he ran it in 2:22 and ended up running a season best 2:02. He's determined to break two minutes this season.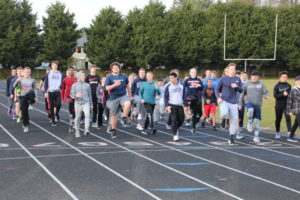 "My family has been pretty into running," Popchock said. "It's a lot of genes."
And a lot of hard work. A couple of times a week, Popchock gets up at 5:30 in the morning and runs at the track, getting in a pre-school workout. He knows hard work is the price of success.
"I like the grind – getting up to do morning runs, coming to practice and just knowing that I'm getting faster and stronger," Popchock said when asked what he likes about track.
Daisa isn't just a winner. He's also a leader. He has a way of pushing teammates.
"I think he'll be the perfect combination of not only skill, but temperament, humbleness," Dudley said. "Kids respect someone who does well. But they really respect a kid who does well and isn't that kid who is arrogant. Who thinks they know it all. He'll be an asset to the program."
Daisa's hard-worth attitude inspires his teammates.
"It's awesome to have him on our team, pushing us," Claridge said. "He helps keep the team together and helps push the rest of us, not only in the shot put but in other events too. He shows us how to work hard."