Ben McDonald grew up in a musical household. His mother was an opera singer, and his father taught him how to sing harmony to the old songs hymns, spirituals and the Great American Song Book. Now, as a band and choir teacher at Bush Middle School in Tumwater, McDonald maintains his chops outside the classroom by performing with all sorts of groups, both classical and jazz, up and down the I-5

corridor. He is one of those people you have probably seen performing around town, perhaps playing a classical solo piece and then turning around and running a trumpet lick like nobody's business.
When McDonald first picked up an instrument, it was the French horn. That did not last long, however. He credits his fifth-grade band director with jump starting his love for instrumental music. "He brought this horn in, and it was so cool looking until I asked him if you could play jazz on it. Then I switched to trumpet," he laughs.
A gifted musician from the start, he began working paid gigs at a very young age. At about age 12, he started playing off stage or in the pit for the local opera company in Anchorage, Alaska. It was there he learned adaptability, playing scores to everything from classic operas like "La Traviata" to musicals such as "The Music Man" and everything in between. As a youth he played in The Far North Jazz Ensemble, made up of select members from the Anchorage Youth Symphony. He has been mixing the worlds of classical and jazz music from the beginning.
McDonald went on to earn a degree in music from The University of Kentucky, Lexington. "I studied two years there with Vincent Di Martino," he says of the renowned player and teacher. "Later I studied for eight years with William 'Bill' Fielder at the Mason Gross School of the Arts in Newark," he continues. In fact, McDonald's ability to switch nimbly from classical to jazz and across other genres is one of many talents demonstrated by Fielder, who played with everyone from Aretha Franklin to the Chicago Symphony Orchestra with equal ease. According to McDonald he was a "master teacher," and he credits Fielder with playing the pivotal role in his life as a musician.
A teacher himself for over 15 years now, McDonald takes on the occasional private student as well as the kids he instructs during the day at Bush Middle School. What gives him the most musical pleasure, however, is playing. He has performed with the Oregon Symphony as well as the Oregon Opera and Ballet. In addition, he lends his talents to the SPSCC Symphony Orchestra, and he is one of the founding members of the Olympia Jazz Senators. McDonald can be heard playing with the Olympia Jazz Senators all over Thurston County throughout the year.
A number of years ago, he was asked to play lead trumpet with multiple Grammy Award winning artist, Esperanza Spalding, and was listed as a performing member of the group that won the 2012 "Best Instrumental Arrangement Accompanying Vocalist(s)" Grammy for her 2013 song, "City of Roses." He has also toured with the jazz singer and musician. (You can see McDonald performing "City of Roses" with Spalding in this YouTube video.)
While touring might seem glamorous, McDonald's ties to Olympia are strong, and he never strays too far from home. He and his wife Kate, now a captain with the Olympia Fire Department, have lived here since 1994 when she was first hired as a paramedic. The couple's three children are all here, too. Oldest daughter Madison is married and works as a real estate agent in the area. Twins Sayer and Ciel are juniors at Olympia High School.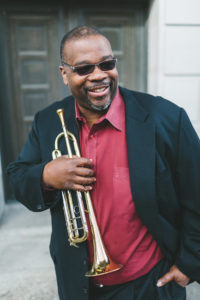 Pursuing music outside of his teaching gig remains important to McDonald, though. "I try to learn something new every day," he explains. He also acquires a lot about who the next best musical break out stars might be from his young students, various bands and singers he might not discover on his own, but as he explains, "In order to teach, it is important to refresh my own musical development. I try to lead by example. I always want to know more, so I can teach more." As a result, he is always looking for opportunities to expand his repertoire and build his resumé.
From the raw talent and resonant bass voice of his father, to the classically trained influences his mother brought to the table, to the mentorships by renowned jazz musicians and teachers, McDonald appreciates the role music has played in his life. In addition to being his passion, it has become his life's work, and now he is sharing his knowledge with the next generation. We are very lucky to have him live and work in Thurston County.