Tumwater junior Cy Hicks received a text from his cousin Hunter Mullins prior to the start of Mat Classic.
Mullins had won the past two Class 2A state heavyweight championships before graduating from Orting High School. His message to Hicks was direct. "He told me he didn't want the title leaving the family just yet," Hicks stated. "He said it was my time now and go out and win it."
It took a thrilling overtime, but Hicks did just that, defeating Evergreen Conference rival Hunter Arredondo of W.F. West, 3-1, in the 285-pound finals at the state high school wrestling championships at the Tacoma Dome on February 18.
"It just feels so unbelievable. I'm crying right now. I really can't describe it in words," said Hicks, who had placed third in the division in 2016. "Last year really served as motivation for me. It definitely pushed me this year, and to finally win it just shows all that hard work paid off."
Hicks becomes the 20th Thunderbird ever to win a state championship, and the first since Jose Jimenez won the 220-pound crown in 2013. It also marks just the second time a Tumwater heavyweight has captured a state title, joining Chris Villalobos, who won the 4A championship in 1994.
"He's the easiest kid to coach," said Tumwater coach Tony Prentice. "He is such an intense competitor. He is always respectful to everyone. You don't get to coach kids like this very often."
Few champions at Mat Classic had a more difficult path to a championship than Hicks as all four his opponents placed.
Hicks opened the tournament by quickly pinning Lindbergh's A.J. Sellem, who finished eighth, in the first round (1 minute, 4 seconds).
In the quarterfinals he knocked off Toppenish's Johnathan Cuevas, 12-4. Cuevas would go on to take third place, a year after finishing fourth as a heavyweight.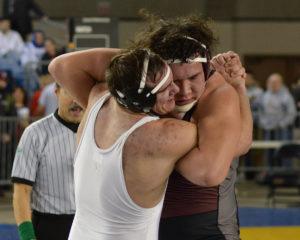 Up next was a game Jackson Potts of Foss in the semifinals. Hicks would register a late two-point takedown in the third period to post a 3-1 victory, pushing him into the state finals for the first time. Potts placed fourth.
As dramatic as his semifinal victory was, Hicks' championship win over Arredondo surpassed even that.
Tied at one at the end of the third period, the two headed to a one-minute overtime session. Arredondo, who defeated Hicks, 3-1, in the regional championship the previous week and was the state runner-up last year, appeared to have Hicks on the verge of a takedown midway through OT, but a quick shifting of his weight suddenly gave Hicks the leverage he needed, leading to a takedown of his own and the title.
Hicks, who also finished fifth as a heavyweight as a freshman, lost to Mullins in the quarterfinals last year before steamrolling his way to a third-place finish.
"I'm going to call him right now and tell him what happened," Hicks said with a grin. "The goal now is to keep the title in the family for another year."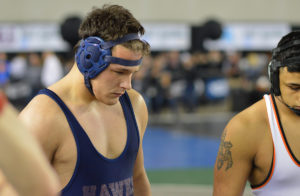 River Ridge senior Blayne Haderman came up short in his bid to join Hicks as a local state champion, falling to Blaine's Saul Magallon, 3-1, in the 2A 220-pound finals.
Attempting to become the first Hawks' wrestler to win a state title in seven years, Haderman rolled into the finals after defeating Centralia's Mario Mungia in the first round (9-1), Cheney's Josh Baker in the quarterfinals (5:07), and Toppenish's Isaic Anaya in the semifinals (8-3).
Haderman, who entered the tournament as the state's top-ranked 2A wrestler in the weight classification, and Magallon battled to 1-1 tie through the majority of the contest before Magallon notched a late third-period takedown.
Haderman was the second local wrestler Magallon dispatched on his way to the title as he also defeated Caden Hicks, Cy Hicks' younger brother, in the semifinals, 7-3. Caden Hicks, a sophomore, would eventually make his way through the consolation bracket and finish sixth.
Yelm had another strong showing at the 3A state tournament, sending a trio of wrestlers to the finals. Sophomore Steven Reyes (126 pounds), sophomore Chayton Miller (160) and senior Jeremy Smith (195) each finished second in their divisions. The Tornados finished fifth overall as a team, posting 105 points as they also received placings from Gavin Stewart (fifth, 113), Derrick Platt (third, 182) and Skylor Mottner (seventh, 285).
Timberline's Adam Benson (170) and North Thurston's Kai Burgman (220) finished fifth and eighth, respectively, in their 3A weight classifications, while Olympia High School senior Layn Pannkuk grabbed fourth place in the 152-pound 4A tournament.
Rainier senior Curtis Lenz capped his stellar high school wrestling career by winning the Class B state championship in the 106-pound division. Lenz defeated Kalama's Chase Staup, 4-1, in the finals. Lenz's teammate Tyler Barlass claimed fifth in the division.
Congratulations to all our the local wrestlers who competed at the Mat Classic 2017.