The interest would eventually fade. At least that's what her parents believed at the time.
Joyce Thomas had nothing equine related in her past – no family member that initially sparked the intrigue.

As she puts it, she simply gravitated toward it based on the fact she was just a "horse-crazy kid" growing up.
"My parents owned apartments on Lake Washington in Kirkland. I was never around horses when I was younger," Thomas said, "but I just kept asking my parents if I could please ride a horse."
Eventually, her parents caved and began taking Thomas riding once a week.
"I think they thought it was something that would just work its way out of my system over time," Thomas said.
It never did.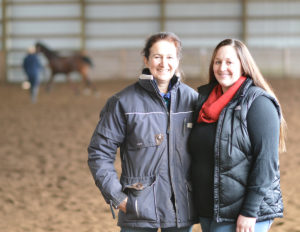 More than five decades later, her enthusiasm couldn't be stronger.
Thomas has owned and operated N Joy Arabians – a 60-acre training and boarding facility located in Olympia that offers lessons in Halter, English, Western, Hunter, Dressage, and Trail, among other disciplines, for the last 28 years.
Joined at N Joy Arabians by her daughter, Alicia Kegley, Thomas and company are currently gearing up for the start of the 2017 competition season, which runs through October and takes her clients to shows throughout the United States and Canada. The first stop for the lengthy 10-month competition season is the Scottsdale Arabian Horse Show in mid-February.
Last year, N Joy Arabians produced five national champions, every one of them a significant upgrade over Thomas' start.
"It wasn't too long after I began riding that I was given a horse," Thomas said. "It was a backyard horse. It was old. It was blind in one eye, but it was a free horse, and it was mine."
If that wasn't enough to seal the deal, her first national competition, in 1972 ,at the age of 14 was more than enough to push her over the edge and into horse nirvana.
The event took place at Oklahoma City. Thomas was named unanimous national champion.
"I was hooked," Thomas said. "I wasn't going anywhere after that."
Thomas specializes solely in Arabians and Half-Arabians with clients coming from as far as Poulsbo and Wenatchee and provides lessons for kids, ages 5 and up, six days a week.
"It generally starts with, 'Oh, we're just going to go once a week,' then it's, 'We're just going to come twice a week.' And like a year later they are buying a horse," Kegley said. "There's a really big demand for it with the kids, especially around Christmas time. You will get parents coming in to get gift certificates for the kids for lessons. Everyone wants a pony. You can't go wrong with there."
In addition to teaching kids how to ride, students also learn about grooming, tacking and the essentials of horse care.
"You can tell the ones who want to stick with it. The ones that really want to learn how this horse functions, how they work. There are people who want to come and just ride a horse and that's fine, but then you have the ones who come and they really want to learn the ins and outs of it. Those are the ones who end up getting a horse and go on to the regional and national competition," Thomas said. "We also offer a lease program where we lease some of our horses. It allows the parents the chance to see if the rider is going to be serious about this."
However, it's been Thomas and her daughter's experience that once their students get on the horse it's difficult to get them off.
"People generally don't leave the horses. It ends up turning into a passion. It's not just a hobby," Kegley said. "The riders end up building that bond with the horse. You have to make a partnership out of it, and not every rider and horse are going to click. It's trial and error. You have to find the right partnership and it takes a while to build that."
But once you have it, it's tough to break. That's certainly been the case for Thomas.
"I just love it. I love seeing my students out there. There's a piece of me in every rider and every horse I send into the ring," Thomas said. "I still show myself, but not as much. I enjoy now more getting the horses ready, getting the riders ready and sending them out there."