Waiting to get the results of an MRI or ultrasound can be incredibly nerve-racking. Learning about those results, whether good, bad, or somewhere in between, can be emotional. Yet often the doctors who interpret and deliver those results work behind the scenes, never even seeing or meeting with their patients. Dr. Grant Tibbetts wants to change that.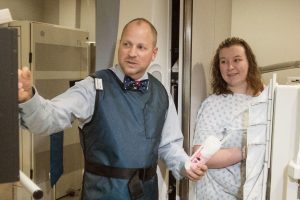 "A lot of people never see their radiologist and may not even know radiologists are doctors," says Tibbetts, the Medical Director at TRA Medical Imaging's Olympia center. "Some radiologists are happy with that, but if you've got a patient who's just had a miscarriage or new parents who are anxious for some good news, we need to lower the threshold to have that patient interaction."
Since joining the Olympia practice in 2014, Tibbetts has pushed for more patient-centered care, starting with increased interaction between radiologists and patients. "It's fairly characteristic to have a lot of patient interaction in certain arenas like diagnostic mammography," he says. "I've been interested in moving the bar in other modalities to create more patient interaction opportunities that may decrease anxiety."
Tibbetts has also broadened the scope of what TRA offers locally and brought in new technology. "He's been really great for our community," says Jill Makowichuk, Marketing and Sales Manager at TRA. "He's got a lot of experience and is really pushing to enhance the services we offer in Thurston County."
Those services include a variety of ultrasound options, including elastography, a method for mapping the elastic properties of soft tissues. The relative hardness or softness of the tissue provides information about the potential presence of disease. "It's something not many places are offering," says Makowichuk. "It's a technique that tests soft tissue, mostly in the liver. Usually that can only be done through biopsy, so this is a less invasive option."
Tibbetts also was the driving force behind the Women's Imaging Center located within the Lilly Road campus, which offers 3-D mammography. "It's now the standard for all TRA breast imaging," says Makowichuk.
The new 3-D technology had an unexpected side effect: once TRA introduced it, some competing facilities followed quickly. "We've gone 3-D throughout TRA," says Tibbetts. "I thought we'd be unique a bit longer here in Olympia, but spreading the technology's use is win-win for the women in the community. It's all about providing great patient care."
As an outpatient clinic, TRA provides a patient-centered experience, Makowichuk maintains. "From the easy scheduling process and friendly staff to the calming environment, it's really a better patient experience overall," she says.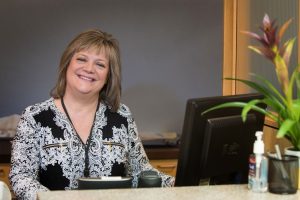 Financially, TRA works with patients to make bills manageable, starting with the fact that there's only one. "When a patient comes to a TRA outpatient location they will only receive one bill for their visit. That is inclusive of their exam and the professional interpretation by the radiologist," says Makowichuk.
The company also provides financial assistance, including financial counselors that patients can call. "They help you work with your insurance company to understand what your out-of-pocket expenses will be, as well as set up a no-interest payment plan," says Makowichuk. "We participate in grant matching with a long list of organizations. The main thing is for patients to not have to worry about how they're going to pay for their visit. We just want to get them to get the care they need."
Many of TRA's doctors float between their Tacoma, Olympia, Gig Harbor, and Federal Way locations. Tibbetts is one of a few that has made Olympia and the surrounding area his home for both work and his family. "We have 60 radiologists and all of them are sub-specialty trained in very specific areas like pediatric or musculoskeletal imaging," says Makowichuk. This allows focused high level interpretations are available locally.
That means more options for patients in the South Sound. "It's always nice to have choices," she says. "It's a big area and it's important for people to have options."
The group works closely with referring doctors, and building those relationships is important, says Tibbetts. "We want to come alongside as an ally of clinical providers." With the exception of screening mammograms, most services require a referral from a primary care provider. "We work closely with the doctors in the community to get the best diagnosis," says Makowichuk. "We're a one-stop shop. It's nice for patients to get used to going to one place."
And that, ultimately, is what it comes down to – the patients. "When people get word of their diagnosis, they tend to forget everything after that, especially if it includes the word 'cancer,'" says Tibbetts. "They need to hear it a couple more times before it really sinks in. Sometimes we have the opportunity to deliver the news (good or bad) first, and come alongside our primary care colleagues in sharing the patients' journey from unknown to diagnosis and its management. We're putting the 'relationship' back into the radiologist-patient relationship."
For more information about TRA Medical Imaging, visit www.tramedicalimaging.com or call the Olympia location on Lilly Road at 360 413-8383 or toll free at 866-761-4200.
Sponsored