Bowling isn't just a fun past time for Dan Brathovd and his family, it's a way of life. And that isn't just because they are the owners of Aztec Lanes on Martin Way in Lacey. Dan is taking his love of the sport and passing it down to future generations. Growing up in his grandfather's bowling alley, it was easy for Dan to develop his bowling skills. Now, as the owner of that same business, he wants to help others succeed in this universal sport.
As we sit down at the counter, I'm surprised to find out that bowling is now a sport in almost all public high schools in Thurston County, and has been for almost the past eight years. "Bowling was something they added because the girls didn't have as many sports opportunities as the boys," Dan explains to me. He coaches the North Thurston High School Bowling Team, which is currently made up of nine girls.
Dan says they still have room to grow and he hopes to see more girls joining the team in coming years. "It's a paid position if I want it to be, but I volunteer my time to grow the sport. We went through some time where people weren't bowling, we didn't get the open play. Now that bowling is in the high schools, everybody's getting back in the game." And if bowling is your livelihood, like it is for Dan's family, then it's a win for everyone.
To get started in the sport of bowling, Dan says you really don't have to have any experience at all. That's where his expertise and skill comes in. "On the first day of practice, I help them find the ball and have them go down and bowl while I take notes. I just want to see how they're bowling and how I can help them. It's mainly just repeating a shot, hitting the spot on the lane." But it also doesn't hurt to have a coach with a lot of experience.
As bowlers progress in the sport, Aztec Lanes has plenty of options by way of shoes, balls, and accessories, and you won't have to break the bank either. "I'm not here to make a million bucks in the pro shop. I do it just to get people in here and bowling."
Dan's daughter, Makenzie, took up bowling when she was just five-years-old and now bowls for North Thurston as a freshman, but with parents who own the bowling alley it's no wonder she's one of the team's stars. "High school bowling is a nice balance between competition and fun. There are girls who have been bowling for years and girls that have just started and it's crazy to see how much improvement the girls make in such little time," she says.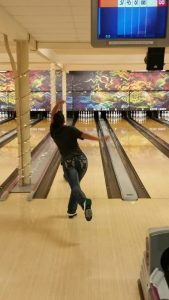 Dan tells me the story of another girl on the team who literally started out her first game by bowling a three, for the whole game, and now has an average score of ninety. "She's all excited. They're just getting better, the more we practice. It's fun to watch the girls grow."
And the team agrees with their coach. Sophomore Mikki Matson says she's already planning to join the team again next year. "It's rewarding and fun to learn a new skill. I enjoy spending two hours after school everyday with the girls on my team for practice. My coaches make bowling an overall really amazing experience." Fellow teammate Shelby Dutton-McPherson adds, "We have our ups and downs but we pull through it. Our team is made up of some amazing girls, with mostly new players, and we all have good sportsmanship."
Dan tells me the bowling season starts for his girls in November and runs through January culminating with districts then state competitions taking place in early February. The team bowls five days a week between practice and competitions and even though they have fun, they also take it seriously. "The days just go by. I come in early to get stuff done, coach the girls, then do the night leagues. It's really nonstop," Dan says smiling. Lucky for him, it's what he loves. He tells me one of the best parts is watching the girls, who may have never talked to each other in high school before, build each other up. "If you're getting a bad shot, we're here to pick you up. The girls give a high five, and say let's get it better next time. Everybody's going to have a bad day at bowling, but you come back with a good attitude."
For Dan Brathovd, it isn't all about winning or losing, it really is how you play the game. Dan and his family play the game quite well, but they are more than willing to help others become successful too. "I always try to tell them, you can't fix what you just did, you can only make the next frame better." With bowling there will always be another game as you are rarely too old, too young, too fat, or too skinny to bowl. It's a sport so universal, it's made for just about everyone.
If you want to find out more about high school bowling or want to watch the team in action, contact Dan Brathovd with Aztec Lanes for more information.
Sponsored