Even though I grew up in Olympia, I'll be the first to admit there is still plenty to learn about this community, and it won't cost you a dime. So, on a somewhat rainy afternoon I find myself and my son taking a stroll around Capitol Lake. We park the truck at Marathon Park on the southern end of the lake because it's most convenient to our Tumwater home. Today won't be just another walk, because today we are on a mission to learn something new about Olympia.
We've heard that cement blocks exist around the lake, listing each county and an interesting fact. With our water bottle and phone in tow, because we do still play the occasional Pokemon Go game, we head out on the gravel path counter-clockwise around the lake. It's fun to be doing this again with my son, who I was pushing in a stroller on our last walk around the lake many years ago.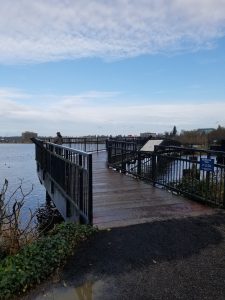 Before we even get to the cement blocks, our education begins when we stop to read a sign. It explains about the New Zealand Mud Snail, which is the cause for closing Capitol Lake since 2009. This non-native invasive species eats algae and other microscopic organisms which affects the food cycle of the lake. They also like to hitch a ride on just about anything from boots to pets, and it only takes one to set up a new colony someplace else. Because of this, the lake remains closed, but, as we're finding out on our walk, that doesn't mean you can't still enjoy it.
The next educational sign we run across gives us a brief history of Marathon Park itself. The park is named in honor of the first U.S. Women's Olympic Marathon Trials which took place in Olympia in 1984. Our small town competed against Los Angeles, Buffalo and New York City for the privilege of hosting the historic event. Participants ran the 26.2-mile race on roads throughout Thurston County, with the event ending near where Marathon Park is now. Both my son and I are very surprised to learn that Olympia once hosted Olympic athletes.
As we cross the small bridge connecting the two sides of the lake, we meet people walking dogs, listening to music, and taking pictures. It really is a wide mix of our community. Still looking for the elusive cement county blocks, we stop to read one more sign, this time about salmon. With an informative graphic depicting the cycle of life, death, and renewal of these fish, it's a great spot for more learning to take place. Because the salmon come up through the lake on their way to the Deschutes River, it's an important part of the ecosystem in this area.
As we round the bend on the gravel path, my son shouts, "Mom, over there! I see a cement block with writing on it." Sure enough, we have found the first one, Benton County, of which the county seat is Prosser, established 1905. Unfortunately, we are unable to read the interesting facts about this county because of the nasty weather. But we've got plenty more blocks to explore, so on we go around the lake.
The majority of the other plaques are much easier to read, and we learn everything from where names were derived from to fascinating facts about the landforms found in the individual counties. I notice they are alphabetically placed on the walk, so it's easy to locate a specific county you may be looking for. The cement blocks stop just about halfway around the lake, so we go back to looking for Pokemon and other points of interest. We also stop for a moment to learn about flooding from the Deschutes River, which has affected the area in years past. We are both especially fascinated by the pictures of Olympia during flood stages.
As we start on the final stretch of our walk, we pause to admire the beautiful golden trees and many ducks occupying the water of Capitol Lake. There's also a quick stop to look down through the fish ladder where the lake connects to Puget Sound. This part of the walk, along Deschutes Parkway, doesn't have any signs to read; instead we spend our time people watching and hoping it doesn't rain on us. The entire walk takes less than an hour, and we complete a little over a mile and a half. All in all, it's a great time spent together and an opportunity to learn something more about where we live. As we head home, I point out the Interpretive Center to my son and say that's where we will go next time. He just smiles and nods.
Thrifty Thurston highlights inexpensive family fun in Thurston County. The weekly series focuses on family-friendly activities throughout our community. If you have a suggestion for a post, send us a note at submit@thurstontalk.com. For more events and to learn what's happening in Olympia, Lacey, Tumwater and the surrounding area, visit our complete event calendar.