Winning a major award can put the recipients into a near state of shock. Time slows down, everything becomes a bit surreal and people delivering basic directions may seem like they're speaking from the other end of a tunnel. So when Yelm High School's FFA (Future Farmers of America) was named the Model of Excellence Winner at the 89th FFA Convention and Expo, making it the top chapter in the nation out of 7,859, the students representing the school struggled a bit to take it all in.

"It was kind of funny backstage," says Thomas Pablo, Chairman of the chapter's Grant Committee and last year's Vice President. "They said, 'If you win, step forward.' We didn't know that 'step forward' meant 40 more feet to center stage. They were literally pushing us."
Second Vice-President Jozie Reid says the announcement came as a shock. "We were already onstage and we heard our names. We said, 'That's us. We've got to go,'" she says. "That was a very big thing."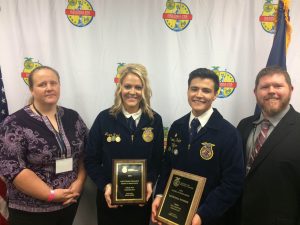 Nationally, FFA has 649,335 members, 65,000 of whom attended the annual conference. It's one of the largest in the country, second only to the Republican National Convention. Pablo found it mind-boggling to see how many students from different schools participate in the organization and are willing to put in the required work and time. "It was amazing to experience all of the diversity from one state to the other," he says, "and to see how many people have the same purpose in being there and the same level of buy-in."
Another Yelm student, Erin Smith, competed in FFA's national Prepared Public Speaking Contest, representing Washington State. "Only the state winner gets to compete," says Mounts. "She placed among the top ten in the nation with a speech on food deserts." Food deserts are urban areas where it's difficult to buy affordable or good quality fresh food.  Smith is now a freshman at Western Washington University.
Each year, every chapter is encouraged to fill out a National Chapter application, which is scored at the state level and then sent on to the national committee, which ranks each chapter as one-star, two-star, or three-star. Among the three-star chapters, rankings are further broken down based on goals and plans of actions in the areas of student development, community development, and chapter development.
"Of the three-star chapters, they go through and try to find the top ten in the nation in those areas," says Yelm FFA Advisor Matt Mounts. "Then they take the top ten chapters overall in all three of those categories. Those are considered Model of Excellence finalists." Yelm was ranked first among the ten.
Each of the ten chapters chooses two representatives to present their program at the national convention to a panel hand-selected by the national committee. "You don't know who's going to be on it," says Mounts. "You have past state officers, past national officers, industry representatives and people who really understand what is necessary to be an outstanding chapter."
Reid and Pablo were the representatives for Yelm, but even that was a competition. "There were more than two of our officers who wanted to go," says Mounts. "We brought in former Yelm FFA members as part of the selection process so that the community had a say in who got to present."
The award recognized programs and activities the student officers created starting in the spring during the previous school year. "The goal is to design something so that you cover each of the three areas of student, chapter, and community development," says advisor Dusti Nash. "As advisors, we sit down with them and say, 'What are your top nine things? Where do they fit in with the quality standards and which do you think are the best ones we do?' The kids work with their committees once schools starts to develop their entire program."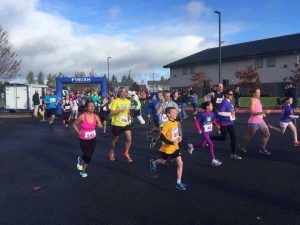 One of those activities was a 'Pink Out' pep rally before a football game to raise awareness of breast cancer. FFA members distributed pink face paint, hair dye, and spirit materials to create a 'sea of pink' at the rally, inspiring six new members to join. They also conducted a Hop for Hunger 5K race to raise awareness of food insecurity issues, as well as an event called 'leadership lock in' and the McKenna Elementary School Science Fair.
"So many of the events were planned outside of the school day and conducted out in the community, outside of the classroom," says Mounts. "There's a tremendous amount of support out there. This truly is a community award."
Nash agrees. "It's important that our community and our school understands that we couldn't have done it without them," she says. "We are successful because of them."
In fact, the community response to the win has been hugely enthusiastic, with messages flooding in before the students had even left the stage. "They announced it at school while we were there," says Reid. "We had lots of texts and calls telling us that they were proud."
Former FFA members also chimed in on social media. "There are students that may have only done one FFA activity in four years who took just as much pride in it, even though they may have played a small role relative to someone who was very active in the chapter," says Mounts. "It was really cool to see that overwhelming joy not only from the students but throughout the community."
For more information visit the Yelm High School FFA website.