Jonathan Sprouffske talks about his family's Christmas tree farm with pride. It's evident the experience of growing up in fields of fresh trees, helping gather boughs, and greeting visiting families is a huge part of who he is.
Now, he gets to watch his three children grow up with the same experience.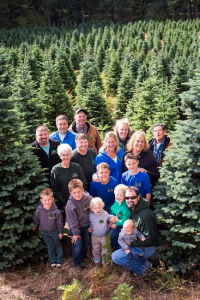 "Restocking candy canes is their favorite job," Sprouffske says with a smile. "It's neat being able to share that with our children. It feels like you're always surrounded by Christmas."
Sprouffske's grandfather planted the first trees in 1965. Sprouffske Trees was born the following year after fulfilling his dream of forming a family partnership. While some faces have changed over the years, all four generations are still involved with the Rainier tree farm.
"My favorite part is that other family traditions were born from our family tradition," says Sprouffske, noting that they see many repeat customers, and some families show up with multiple cars, have picnics, and make a day of their tree-hunting adventure.
Local churches bring covered wagons as part of the fun and offer rides through the acres of Douglas, Grand, and Noble firs. Being outdoors in the fresh-air is part of the experience and occasionally people spot deer and even elk while finding their trees.
Besides the atmosphere, Sprouffske believes a reason the tree farm stands apart is because they are straight forward with their pricing. A visit to Sprouffske Trees includes free candy canes, coffee, and hot chocolate to keep you warm and fueled. Another Sprouffske family favorite is also available to guests; Russian Tea–a mix of hot tea, mulling spices and Tang.
Fifty years means Sprouffske Trees has production down to a science. Not only do they have a huge selection of U-cut Christmas trees, they also have a wholesale department where Sprouffske's two Uncles Jerry and Johnie, and Cousin Darren handle preparing and shipping trees to both local stores and along the west coast.
Three of the original five families still run the U-cut sales. Along with Jonathan and his wife Shelley, there is Jerry and Sandi Sprouffske, and Karen and Johnie Creamer. And of course, the youngest generation—seven boys in total ranging in ages 2-12.
"Part of the nostalgia is when I see my kids working," says Sprouffske, who jokes that the boys like to fight over who gets to flip the switch on the baler that helps with wholesale distribution, or who gets to restock candy canes.
Even though the family has gone from raising cows and hay on the beautiful 214 acres, to including high-tech machinery and four generations of Christmas tree sales, the Sprouffske family realizes the local community plays in the success of their tree farm, and they are happily involved in Rainier's many opportunities to give back.
School Board, Lions Club, Fire Commissioner, and Relay for Life are just a few of the local organizations the family supports. The extended Sprouffske family has lived in Rainier for more than a century and looks forward to being a part of the tight-knit community for generations to come.
The day after Thanksgiving is traditionally the first day of Christmas tree shopping season. Sprouffske Trees is open from 9:00 a.m. – 4:00 p.m. daily from November 25 to December 24. For more information visit Sprouffske Trees online.