When trick or treaters visit the Smolinsky Tumwater house, they have two choices: ring a bell at the end of the driveway and have their candy bag delivered to them or walk boldly up to the front door, past the seven-foot tall 'pumpkin reaper' and over the hundreds of fake spiders scattered across the yard. The truly daring venture into the garage, a space fully dedicated to strategically placed animatronic devices, fog machines and more.

The house is a magnet for kids, attracting plenty of repeat visitors who remember specific features from years past. "Ten to twelve year old boys love it," says Mindy Smolinksy. "They'll tell us, 'This is the best house ever. This is the reason we came to this neighborhood.'"
Every year Smolinsky's husband Scott takes a week off from his job as a UPS driver just to get ready for Halloween. The family garage is permanently painted black with neon lights and skeletons on the wall. The house becomes a trick or treater's paradise, with bags of candy, glow sticks and extras like fake centipedes and, well, fingers.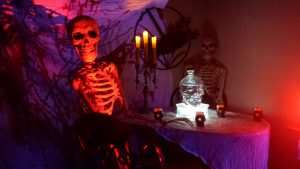 "They're the cute little Dollar Store fingers," says Mindy. "It's not scary. A lot of times we'll do different bags for different kids."
Lacking the space to store all of his decorations, Molinsky stores the bulk of them at his parents' house for most of the year. Still, his garage is filled with black bins with labels like dead things, spiders, and zombie stuff. One unfortunate skeleton had an accident, the effects of which are still apparent. "I ran over that one by mistake," says Scott. "I'm actually going to leave him all goofy-jawed."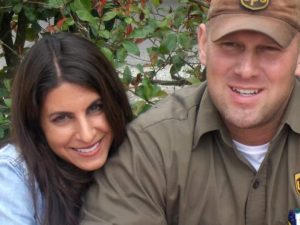 The first year they lived in their new home, the Smolinkys had "a ton of kids," says Mindy. The next year Scott figured he would do more. "We started making gift bags for all of the kids with spiders, fingers, candy, centipedes, pencils, erasers, and full size candy bars from Costco." In 2015, the couple created 300 gift bags – and then the weather failed to cooperate.
"Last year it was raining and I don't think a lot of the neighbors decorated, so the new people didn't know we were here," says Mindy. "We had about 100 trick or treaters but we had so much left over. A lot of people at UPS got candy gift bags."
Along with candy, the couple passes out glow stick bracelets and necklaces to help their visitors see. "We'll light the glow sticks and put them on for them when they get their gift bag," says Mindy.
Each year Scott does a different theme, but zombies are a common thread. "I wouldn't call it a haunted house. I would call it visually overwhelming," he says. "There's a lot of detail. If you just sit there and look at stuff you'll find something." Their next door neighbor also decorates, so it's not uncommon to see ghosts or bats flying back and forth between the homes.
The house is a hit among the neighbors, many of whom stop by whether they have kids or not. "We get a lot of comments," says Scott. "A lot of times the parents have as much fun as the kids and they ask a lot of questions."
He makes a conscious effort to keep the scarier features apart for the sake of younger trick or treaters. "I try to separate it. The garage section is more scary, so they can still go to the door," he says, emphasizing that they don't do blood or gruesome displays.  The bell at the end of the driveway is an option for smaller children or those too scared to come to the front door.
Scott wasn't always so into Halloween. Growing up, he enjoyed candy and trick or treating, but never considered decorating himself. The change came when the couple moved into their current home at 3057 Banks Lane in Tumwater. "Once we moved over here I got a little obsessed with it," he says. "It started out small about four years ago and kept getting bigger and bigger."
He is, however, a horror fan. "My prized possession is that I own the Bible that was in the Amityville Horror house," he says. "Our television is permanently on the ID channel. I love horror movies."
By the end of a week of preparation, he doesn't need to dress up. "I put in so many hours that I look like a zombie," he says. He tries to keep the annual theme under wraps, closing the garage door until Halloween. This year he started working on at least one prop in September and plans to add features to the couple's rooftop patio.
"Kids are always expecting something new," he says. "I hope they just have fun and eat candy."
Visit the Molinsky house this Halloween at 3057 Banks Lane at the top of Tumwater Hill near Overlook Point Park in Tumwater.