At Pacific Medical Centers in Federal Way and Puyallup, the staff became accustomed to a regular refrain from clients who live farther south: "When are you going to open a location closer to my home?"
Rest easy, Thurston County. A new Pacific Medical Centers (PacMed) clinic will be opening in Lacey in December.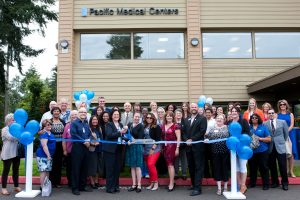 The decision by PacMed to add a South Sound facility to its ten existing clinics came about as a result of patient demand, focus group results and a strong connection with the local military community. "We did a focus group on Pierce and Thurston counties," says PacMed CEO Linda Marzano. "We wanted to know what the population was looking for and what could be done better."
PacMed also has a 30-year relationship with the Department of Defense, and many of its patients come from Joint Base Lewis-McChord. "Our military patients were always telling us, 'We love PacMed, but we can't keep doing this drive. When are you going to open a clinic closer to us?'" says Marzano.
Focus group results revealed a strong need for both behavioral health and primary care services in Thurston County. Behavioral health deals with psychological aspects of wellness, addressing issues like depression and anxiety or substance abuse. "We found the demand was much more severe in the south Sound," Marzano explains. "Behavioral health is embedded as part of our primary care model for things like chronic disease management. We feel strongly that it must be part of our primary care model."
This means that patients who may be struggling with depression as an effect of a disease like diabetes or cancer can get treatment. "We have licensed psychiatrists and psychologists on staff who can help people live better lives by dealing with some of these side effects," says Marzano. "Changing your lifestyle can have a significant impact."
The focus groups also identified a shortage of primary care providers in the region. "It's getting more and more difficult to find providers with open access in many areas," she says. "We don't want patients to have to wait a month and a half to get a doctor's visit. We're hiring many more primary care doctors to support the need."
Marzano believes that choice in health care is important, and the PacMed model offers patients a different model of care. "We're intentionally focused on partnering with the community and keeping costs low for our patients," she says. "We say that patients should have the right care at the right location at the right time. And we don't overutilize tests as part of the care model. There is nothing to show that patients get better treatment through the overuse of tests."
The PacMed model is patient-centered, with the relationship between patient and health care provider at its core. "We want to partner with you when you're healthy to prevent illness down the road, especially as you age," says Marzano. "How can we keep you out of the hospital? We're focused on prevention and quality metrics." With this model, patients can receive care in whatever way is most convenient for them, whether that's online or through an in-person visit. "We listen to our patients," she says. "This is not a one-size-fits-all situation."
PacMed recently opened a clinic in Lakewood to rave reviews, and Marzano hopes the reception from the Lacey community will be similar when that clinic opens in December. "It's been pretty amazing. We've seen a significant number of new patients in Lakewood," she says. "We had an open house the first weekend after we opened, and a lot of local business leaders came to talk about how we can partner with the community and work with their employees for things like screenings at work. It's been incredible, and we have no doubt it will be the same in Lacey."
Community partnerships are an important part of the PacMed model, one the organization is looking to replicate at the new location. "In Canyon Park near Bothell, we work closely with the schools and engage in community events," says Marzano. "We want to be your partner outside of the doctor's office."
To start, the Lacey clinic will have seven primary care providers and 50 employees total. Marzano feels confident that number will grow. "Eventually, we'll expand and add things like optometry and physical therapy," she explains.
No doubt south Sound patients will be relieved that they no longer have to drive so far, but so will some members of the PacMed staff. "We have so many employees that commute from Tacoma and Olympia to our First Hill and Renton clinics," says the CEO. "They're all excited about being able to serve the communities where they live."
For more information about Pacific Medical Centers, visit www.PacMed.org or call 1.888.4PACMED.
Sponsored