Most middle blockers are looking for that perfect pass.
Olivia Fairchild is the exception. She isn't too picky. Simply put the ball in the North Thurston High School senior's general vicinity and watch her hammer it home.
It's the luxury of being six-foot-two with lengthy arms.

"You can't coach that," Rams' volleyball coach Jackie Meyer said about her star player's size. "We have a lot of young setters this year and having Olivia helps with that. They can just put the ball up there and she'll hang a little longer if she needs to. She can hit anything."
Fairchild's abilities will be called upon quite a bit throughout the season, but never more than in the early portion of the year. North Thurston graduated several key players from last year's squad that finished second in the 3A Narrows League, including Alex Porter, the 2015 league MVP, and Kailey Losey, a first-team all-league selection at setter, leaving Fairchild with several younger teammates who will need time to find their footing.
Fairchild, who verbally committed to the Western Washington University in February, is more than up to the task.
"We've had a lot of hard hitters since I've been here," said Meyer, last year's 3A Narrows League coach of the year, "but not with her size."
And size is what the newly formed 3A South Sound Conference is all about.
"This year is definitely the battle of the middles," said Meyer, citing Capital's Hali Eshresmann and Timberline's Juliana Salanoa as two of the conference's standouts. "There are so many good players in this league."
It's a list Fairchild's name deserves to be on as well, but don't expect the same player as last year. The length, athleticism and power are all still there, but Fairchild enters the new season with a different mindset.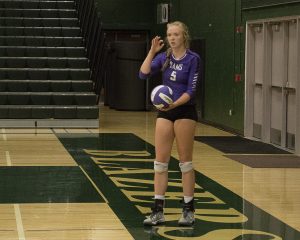 "Over club season I tried to develop more of a game face," Fairchild said. "The last two years on varsity I didn't really have it. I really wanted to be committed (to a university) when I was playing in club and wanted to up my play. That's when working on my game face became a thing."
Meyer saw the new no nonsense approach immediately as during the Rams' opening practice Fairchild was going all in from the start.
"She's the best player in our program, by far, and she came out like she needed to earn a spot," Meyer said. "At the end she was exhausted and dripping with sweat. She's more focused, more serious this year. Sometimes you will have a senior that knows she's going to play in college and doesn't play up to the hype because they already have that scholarship. Olivia hasn't been that way at all. She's leaving it all out on the court."
Gone was the grin. In its place was a little more grit.
"I didn't want to be a laid back senior. I didn't want to come in and not work because I already had my spot," Fairchild said. "I wanted to set the tone and the pace."
That mentality was needed with the Rams entering a far more competitive league than previous seasons.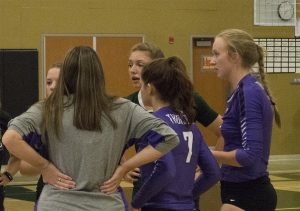 "We've had runs the last three years, but we've never had a league that brings that competition every game," Meyer said. "The team knows they need to come out and bring their A game every single game. They're thirsty for it. The new league has motivated them to elevate their play."
But it's not just the physical aspects that Fairchild has dedicate herself to improving during her senior year. It's also all the off-court requirements Fairchild has tackled that come with being a senior captain that Meyer is equally pleased with.
"What I have really been impressed about Olivia is she is not just stepping up her game and her level of play, but also her leadership qualities," Meyer said. "I always tell girls, there's something about being a good volleyball player, but there's also something about being a good teammate. Olivia has come out this year focusing on really being a good teammate."
Interestingly, when Fairchild entered high school, basketball was her sport of choice. However, it was quickly phased out once she discovered volleyball.
"I have actually not stopped growing until this year," Fairchild said. "I didn't have an opportunity to grow into my body so I kind of sucked at every sport back then. I was just really awkward playing basketball. When I started playing volleyball it just came naturally for me."
So naturally that Fairchild was one of the few non-seniors to be a first-team all-3A Narrows League recipient last year.
"Her goal is to get ready for that next level. Her play has gone up 10 times and I am just really proud of her," Meyer said. "She came into the program kind of gangly and not knowing who she was. She has worked so hard and just gotten a lot stronger. She's more comfortable with herself on the court and is now really focused on becoming an all-around player."