Capital High School girls soccer coach Adrianna Montes was forced to do some shuffling to her backline last year, resulting in midfielder Chloe Lamenzo heading to the defense.
It was the first time Lamenzo played the position since her youth soccer days.

"Honestly, I didn't volunteer," Lamenzo, now a senior, said with a laugh. "They just kind of put me there, but it did work out."
Lamenzo was a first-team all-3A Narrows League selection last season, helping the Cougars to postseason play.
"Chloe can play anywhere," Montes said. "We could put her anywhere on the field and she will be successful. She's coachable. She can play anywhere, she's got speed, she's strong. She's got everything a Division I coach would want."
This season Lamenzo, who is being recruited by Colorado College and Brown University, and her extensive skill set are on the move once again, back at her natural forward position after the Cougars lost their top two scorers from last year to graduation.
"It was a relief for sure," Lamenzo said about her return to midfielder. "I love scoring goals. It makes it a little harder when you have 50 yards to run. The goals can be few and far between when you're playing defense, but I am really thankful for the opportunity last year because it gave me a whole new perspective for the game. Playing defense really helped me improve myself as a player."
Lamenzo, one of the team captains, joins juniors Sydney Wilson and Samantha Brubaker to form one of the area's strongest front lines.
Wilson is coming off a sophomore campaign where she tallied 12 goals and six assists for the Cougars, who were the 3A Narrows League runner-ups last season.
"We have a really good connection," Wilson said. "And with Sam in the middle it really does create a dynamic offense."
The added firepower will help soften the blow left by the graduation of Rachel Wofford and Madison Midstokke, a pair of AP All-State selections last year.
Midstokke finished with 20 goals and 15 assists in 2015, while Wofford registered a team-high 25 goals and 15 assists.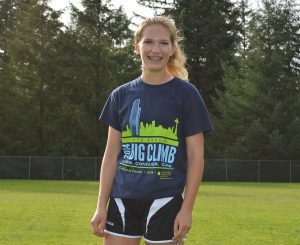 "The three of us in the middle all have a similar mindset where we are doing little passes. We can find space and get around the players. It really keeps the midfield intact," Lamenzo said. "I think there's something with players that are at a certain level. We all have this mentality that you can step on the field and play beautiful soccer together. That's the case with Sydney. It flows. It's natural. We know where we're going to be on the field."
Scoring goals was top of mind for both Lamenzo and Wilson heading into the new year, given how last season ended.
The Cougars went 13-2-2 in 2015 before losing to Auburn Riverside on PKs in a district playoff match. The defeat left a sour taste that lingered throughout the offseason.
"It's the cruel part of soccer," Lamenzo said about game's ending on penalty kicks. "We want to make sure this season we do everything we can so a match isn't decided that way."
Gone is the 3A Narrows League, replaced by the South Sound Conference, which offers far greater challenges this season for the Cougars with the additions of several former 4A squads. It is a task, however, Montes believes her team is up for.
"It's an excellent conference. I think having Gig Harbor, Peninsula, Yelm, Timberline, all those 4A schools who dropped into our league, gives these girls the opportunity to play against that higher level, bigger schools," Montes said. "The last couple years that I've coached this team we've always got to that last game. We come in so strong and it doesn't go our way and it's heartbreaking. The girls feel it."
"We learn from losses, learn from wins and look forward to surpassing the expectations we have set and these girls have high expectations for this season. They are so driven and passionate about the sport," said Montes.
Lamenzo's role in the backline will be filled by junior Ellie Potts, who joins returning starter Paige Murray, a second-team all-league pick as a sophomore in 2015.
"I think we have good chemistry. It's a transition, but I think the backline we have now is really solid and as we continue to play together it will get easier to read each other," Murray said. "At the beginning of season training we were all new to each other. We're just trying to get back our footing because we lost so many key seniors. But we're definitely coming together now."