I like to think of myself as a foodie, exploring my town through eating. The only problem is the cost. Even on the low end, a dinner out can be expensive for our family, not to mention the dollar signs associated with paying my babysitter in order to go out. The good news is that many of these fantastic eateries in Thurston County offer sunset dinners that sample an extensive menu, at a fraction of the cost. From seafood to fresh pasta, the options are ample if you are willing to chew on an earlier dinner time.
Anthony's Homeport is the most famous of the sunset dinners in all of Thurston County. It's popularity comes with good reason, offering a four-course meal for the low price of $21.95 You have a choice of appetizer, salad or chowder, entree, and dessert. Their burnt cream is the perfect ending to a delectable meal. This Monday through Friday deal is only valid until 6:00 p.m. and is accompanied by a stunning, waterfront view. Anthony's Hearthfire Grill also brings the heat for a great dinner deal for the same low price during a similar time frame. Grab a seat on the deck at Hearthfire to complete the evening.
Neighboring restaurant, Budd Bay Cafe, has a sunset dinner from 4:00 p.m. – 6:00 p.m., Monday through Thursday that focuses on three, appetizing courses to sink your teeth into. Start your meal with clam chowder or Caesar salad before diving into a list of seafood focused entrees. Enjoy your dining experience here as you gaze out at the waterfront action. Dream of the boat you wish you could buy with your saved cash.
Want dinner and a show? Check out Fujiyama Steakhouse in West Olympia. From 3:00 p.m. until 5:00 p.m., you can chop your way to savings Monday through Friday on chicken ($13.50), shrimp ($20.50), or steak ($18.50) hibachi. Along with the abundant meal, you will have the pleasure of enjoying the entertainment provided by the chefs behind the grill. It is really a wonderful experience that is well worth the early meal.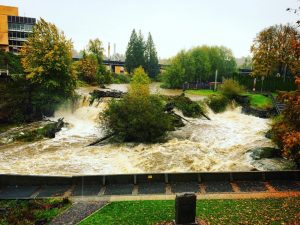 There is something about Falls Terrace that is always impressive to me – maybe it's the view of the thundering falls or the upscale ambiance. Either way, this has always been a go-to place for an authentically northwest dining experience. Their early dinner continues in that tradition with a four-course dinner from 3:00 p.m. – 6:00 p.m., Monday through Friday. You can begin dinner with a shrimp cocktail and salad, then devour a sirloin steak, and finish it all off with their heavenly bread pudding. For $21.95, you can even afford that glass of wine that will pair well with your food.
A friend of mine told me about Pellegrino's sunset dinner after stumbling upon it during an early date night. For only $11.99, you can chow down on four courses. The options are more limited than some of the previously mentioned menus, but if you aren't very picky, this is a fantastic deal you won't want to miss. Many of the offered pasta entrees are even available in a gluten-free version. This deal is only available Sunday through Thursday from 4:00 p.m. – 6:00 p.m.
River's Edge in Tumwater offers a different version of the sunset dinner. These dinner specials are nightly and begin at 4:00 p.m. until closing. Each day of the week, a different entrée is featured along with a house salad or soup for only $9.99. From a Rib Eye on Tuesday to Rosemary Chicken on Saturday, there are yummy options at a low cost that leaves room to order a beer or two.
Finally, Nisqually Red Wind Casino has not one, but two money saving options. First, check out the Sublime Time Specials at Squalli-Absch Grille from 3:00 – 6:00 p.m. every day of the week. For a measly $13.00 you can enjoy a variety of grilled options from their coveted menu. If you are looking for a different option, the seafood restaurant offers a three course dinner Monday through Thursday during the same time for $19.99.
Be sure to book the babysitter early and head out to discover the menus across Thurston County that feature Northwest cuisine at a low price all week long.