The end of a quarter usually means final exams, but for students in South Puget Sound Community College's Pathways program, it was an opportunity to demonstrate their understanding in a different way. After months of integrated studies team-taught by two instructors, they explained what they had learned at a program-wide conference.
"They had great presentations to show how the classes came together," says Anne Molenda, Director of Student Services at SPSCC's Lacey campus. "This approach dives deeper than a final exam. Give us knowledge that you've integrated rather than simply spitting back facts that you've memorized."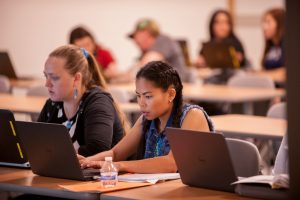 Faculty and staff at the Lacey campus pioneered the Pathways program in 2015, integrating content areas with core classes like English and Math. In the first quarter, students could choose between three pathways: Individual and Society, The Natural World, and The Business World.
With one year now under their belts, the team is reviewing feedback, looking at what worked and making adjustments as needed. Overall, the program has been a very effective way to deliver instruction, says Molenda. "The student experience became very blended. They could see how things relate to each other and broaden their sense of subjects and the interplay between them."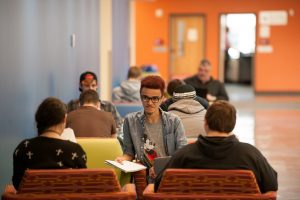 Within the program, students can change their pathway without losing any credit or progress. "From the advising end, we really appreciate knowing that students aren't going to lose anything by changing their minds," says Molenda. "We want to find a plan and a purpose, but if it changes, you're not going to step backwards." Pathways also offers a level of consistency in scheduling that makes life easier for multi-tasking students. "Most are working, some have families," she says. "They can't be at the mercy of a schedule that is constantly changing."
Another aspect of the program is fully integrated student services, something the Lacey campus is small enough to facilitate. On the college's main campus, the advising department normally experiences a rush in the weeks prior to classes beginning. In Lacey, Molenda and her colleagues visit classes in week two and describe the services are available, along with the best time to use them.
"We see a steady hum," she says. "You can get assistance when you really need it. We get a lot more walk-ins, and when registration hits, there is no panic. They ask really good questions. Students are prepared for registration."
Having services like financial aid, Veterans Affairs, the writing center, and math assistance available makes a big difference in retaining students, she says. "It makes it easy to stay. We've gotten extremely positive feedback and are serving a need in our community that we didn't even think about in terms of impact." For students without private transportation, the campus is conveniently located within walking, biking, or public transportation distance.
"We have lots of students who can't drive," she continues. "Some of our special populations can't walk across the Olympia campus in ten minutes to get to their next class. They're really appreciative of this campus having full services." Just getting to class could be an ordeal for those in outlying areas. "The campus is of great help to people like me who live in Yelm," says one student. "The transit ride is almost half the time. Transit was always the biggest issue for me."
As the program moves into its second year, the faculty is making one big change. "Originally the idea was to have a full, two-year Pathway schedule," says Molenda. "What we're finding is that the second year needs a lot of customization, especially for students who are transferring to other schools. Now the Pathways experience will be in the first year. During the second year you can still take classes from Pathways, but it's going to be a more blended experience."
The faculty has been working on directing students in large areas of study based on their interests rather than disciplines or majors. "If someone wants to eventually study anthropology, for example, we don't have a Pathway for that because we don't offer that degree," says Mary Soltman, Dean of Humanities, "but they could find things that are related in the Arts, Communication and Cultural area of study and still earn their transfer degree."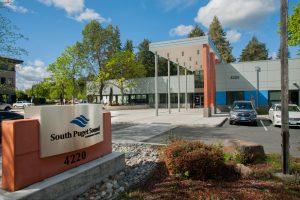 The next big challenge is implementing the Pathways program on the main campus. Recently the college won a five-year, $500,000 grant from College Spark Washington and the Washington State Board for Community and Technical Colleges to support the effort.
"The Mottman campus is a lot bigger," says Soltman. "We have to figure out how we're going to bring Pathways on the Olympia campus because it's so much more complicated. That's what we're working toward."
In the weeks before classes start, full-time faculty will come together and brainstorm potential pathways and course groupings. "We have an amazing and creative faculty here, and their input will create pathways that will blow our minds," says Soltman. "This is not something that a small group can decide and make happen. We have to bring in the interest and creativity of our faculty and administrators."
To learn more about South Puget Sound Community College, visit www.spscc.edu.
Sponsored